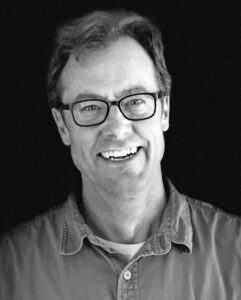 Andrew joined the staff of Sanborn Mills Farm in 2018 as Executive Director. He comes to us with a varied background and experiences. For much of his career he worked with major outfitters – primarily L.L. Bean and Under Armour – designing exacting testing protocols for all categories of outdoor and recreational products. Andrew's leadership and business skills were honed while serving as Senior Director of Product Integrity for Under Armour. His entrepreneurial spirit, enthusiasm, and personal passion for outdoor activities allowed him to oversee a highly effective team of product testers. His talent for team-building has allowed them to improve productivity and profitability in a field that demands both excellence and personal satisfaction.
Andrew is also an experienced farmer and spent a year at the Remick Country Doctor Museum & Farm in Tamworth, NH as Farm Manager. Trained in driving both horses and oxen, he ran all animal husbandry operations including the purchase and sale of livestock, oversaw veterinarian care and coordinated with program staff in the use of the animals for workshops and events. He also participated in the farm's general operations and maintenance.
Most recently Andrew founded the very successful Wolfeboro SingleTrack Alliance, a nonprofit 501(c)(3) that in partnership with the town of Wolfeboro is building out multi-use recreational trails for the surrounding community.
Andrew lives in a late 1700s farmhouse in Wolfeboro wife with his wife Wendy and they have twin daughters. Together, they manage extensive gardens, a period apple orchard, grow strawberries, raspberries, blueberries, as well as a wide variety of vegetables. Over the years they have raised chickens, sheep, goats, alpaca, pigs and a cow named Layla. At one point they ran a 1,300 tap maple sugar operation, raised bees for pollination and honey production, and for a number of years sold maple syrup, honey, woolen fiber products and vegetables at their local farmers market.
Welcome Andrew!