Times: 8 am to 4 pm each day
Materials: Included in workshop fee
Meals: Lunch featuring our farm grown food is included
Instructors: Tim Huppe with Guest Instructors
Maximum Number of Students: 4

In this interactive 2-day workshop participants will gain experience in accomplishing many ordinary farm tasks using working cattle, including hauling materials and how to plow and cultivate a vegetable garden. Participants will yoke and work with the farm's well-trained oxen and instructors will demonstrate each piece of equipment focusing on driver and animal safety and efficiency.
The workshop will cover the use of a variety of equipment including a stoneboat, a scoot, a two-wheel oxen cart, and a four-wheel "truck" (four-wheel wagons built for hauling lumber, logs, barrels, etc.).
Instructors will cover adjusting yoke hardware for draft advantage, chain length and proper hooking, bridling loads for braking purposes and many other procedures that take working cattle to a higher level. The use of breechings on cattle when there is a need for holding back heavy loads on hills, will be also demonstrated.
Much of the training in this workshop will be based upon the day-to-day work at the farm that is accomplished using oxe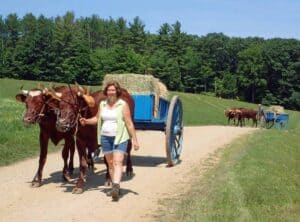 n. Activities include plowing, disc harrowing, cultivating, hillling, and spike tooth harrowing in the gardens. Farm work includes hauling sawdust from the sawmill to the barns and sheds, hauling compost from the storage piles to the many gardens, moving cut and split wood from the wood yards to the woodsheds using carts and wagons, as well as hauling stones from broken ground using a stoneboat and a cart.
During the course of the workshop, participants will also work in the woods hooking up logs to a single ox, a double team and a four-ox hitch using a jingle hook for pulling advantage.
The workshop will move along at a pace that is agreeable with the participants. Instructors will take time to work safely and explain each function in detail. Questions are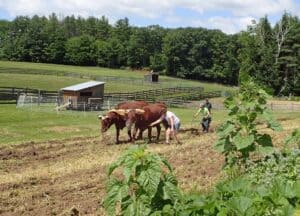 encouraged!
All oxen workshop participants are asked to fill out a Questionnaire so that instructors can tailor the workshop to experience level and needs.
Download the Oxen Workshop Questionnaire: MS Word doc or pdf
Note: Please use the back arrow to return to this page!
Please email or mail your responses at least 3 weeks before the workshop start date to: tim@sanbornmills.org
Sanborn Mills Farm c/o Tim Huppe 7097 Sanborn Rd, Loudon, NH 03307
*********************************************************************
This workshop is held outside. Registrants will be contacted 48 hours prior to the scheduled date if the workshop needs to be canceled or postponed due to weather conditions.
Oxen students are required to wear sturdy laced up work boots at all times. Hard hats are required when working in the woods.
This workshop can accommodate up to 4 students and needs a minimum of 2 to be held.
Participants must be a minimum of 18 years old.
Breakfast & lunch will be provided daily and participants are encouraged to share stories and ask questions during meals.We urge students to register at least one month before the workshop start date.
A one-day deposit is required with your registration.
If you need to cancel your registration, you must do so 30 days before the start date of the workshop in order to receive a refund.
Classes without a minimum number of students may be cancelled and a full refund will be provided.
Click here to learn more about our instructors.
Click here if traveling from afar and in need of housing.