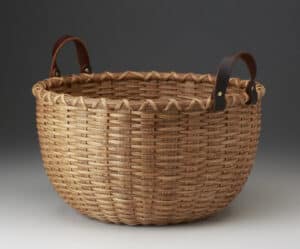 Time: 9 am to 5 pm
Materials/studio fee: $50 payable to instructor
Meals: Lunch featuring our farm grown food is included
Instructor: Wendy Jensen
Long before there were cardboard boxes, paper bags, and plastic bins, baskets were used to carry just about everything. The variety of techniques used to make baskets include twining, coiling, weaving, and plaiting.
In this workshop participants will be using a basic weaving technique to make "Wendy's Field Basket." Starting with a double spoked base, students will weave and shape the sides of this handsome, utilitarian round basket. The basket is finished with a sturdy rim and double lashing. Handles can either be pre-made carved oak or leather (as pictured).
Shaping, rimming, scarfing and lashing will all be taught. While, in New England, the traditional material for making baskets is wood splints pounded out from the brown or black ash tree, in this workshop participants will be working with rattan/reed. Approximate dimensions of this basket are 13″ x 8″ and the workshop is appropriate for all levels of weavers. Options on sealants will be discussed.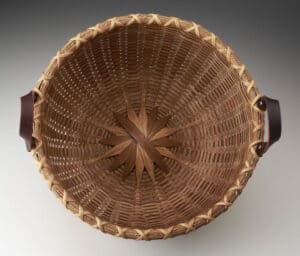 For more information on the baskets of New England:
********************************************************************************************
This workshop can accommodate up to 12 students and needs a minimum of 6 to be held.
We urge students to register at least one month before the workshop start date.
A minimum of a one-day deposit is required with registration.
Cancellations received at least 30 days before the start date of the workshop will receive a refund, minus a $25 non-refundable registration fee.
Classes without a minimum number of students may be cancelled and a full refund will be provided.
Click here to learn more about our instructors.
Click here if traveling from afar and in need of housing.