Time: 8 am to 4 pm each day
Materials/studio fee: Included in tuition cost
Meals: Lunch featuring our farm grown food is included
Instructor: Garry Kalajian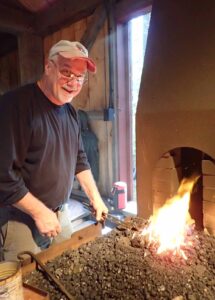 This 3-day workshop is for individuals new to blacksmithing and for those with some experience who want to refresh or improve their skills. All the basics of traditional coal-forge blacksmithing will be covered.
The first day includes an explanation and demonstration of coal fire building and maintenance. Hammer and body motions will be covered and students encouraged to practice heating and hammering. There we also be an introduction to basic metallurgy.
As the workshop progresses, different forging techniques will be covered such as drawing out, upsetting, punching, slitting, drifting, and forge welding. Participants will apply these basic skills in the making of a gate hook, a trivet, and a chisel. If time allows, participants will be invited to choose from projects such as a fire poker, a toasting fork, or nails.
Those who have some previous blacksmithing experience are welcome to undertake a special project for more in-depth instru
ction.
***********************************************
Participants must be a minimum of 18 years old.
This workshop can accommodate up to 4 students and needs a minimum of 3 to be held.
We urge students to register at least one month before the workshop start date.
A minimum of a one-day deposit is required with registration.
Cancellations received at least 30 days before the start date of the workshop will receive a refund, minus a $25 non-refundable registration fee.
Classes without a minimum number of students may be cancelled and a full refund will be provided.
Click here to learn more about our instructors.
Click here if traveling from afar and in need of housing.