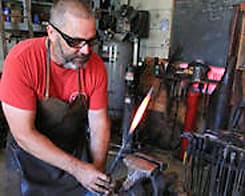 Time: 8 am to 4 pm each day
Materials/studio fee: Included in tuition cost
Meals: Lunch featuring our farm grown food is included
Instructor: Joel Tripp
In this 3-day blacksmithing workshop students will make a large frying pan with an extra-long handle just perfect for summer cookouts and camping trips.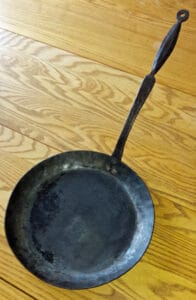 Students will also make a sturdy trivet that can sit right over the campfire for outdoor adventures. The pan will be forged from one piece of steel and the handle will be forged and riveted to the pan.
The completed frying pan will be immediately tested over the forge fire using home cured bacon!
This workshop is best suited for people who have experience in the managing a coal fire and the basic blacksmithing skills of drawing out, upsetting, punching, drifting, and forge welding.
*************************************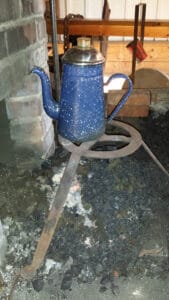 Participants must be a minimum of 18 years old.
This workshop can accommodate up to 4 students and needs a minimum of 3 to be held.
We urge students to register at least one month before the workshop start date.
A minimum of a one-day deposit is required with registration.
Cancellations received at least 30 days before the start date of the workshop will receive a refund, minus a $25 non-refundable registration fee.
Classes without a minimum number of students may be cancelled and a full refund will be provided.
Click here to learn more about our instructors.
Click here if traveling from afar and in need of housing.