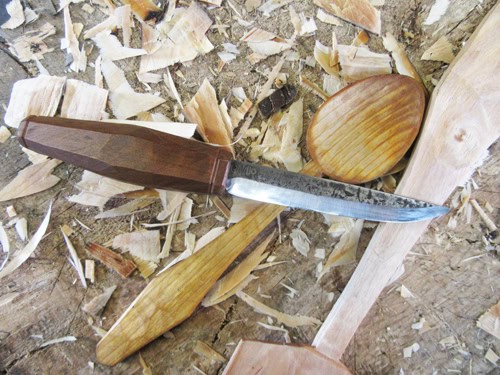 Time: 8 am to 4 pm each day
Materials/studio fee: Included in tuition cost
Meals: Lunch featuring our farm grown food is included
Instructor: Lucian Avery

In this 3-day class students will make a sloyd style carving knife blade with a wooden handle shaped to fit comfortably in the hand. Next, a razor edge will be honed and students will make their own rawhide sheath. On the third day students will put knifes to work and do some carving.
Steel selection, basic metallurgy, heat treating, and sharpening will be covered as well as local wood selection and safe carving grips.
This workshop is best suited to students with some experience in the basics of blacksmithing (managing a coal fire and drawing a taper) or for beginners who are up for a challenge. No forge welding experience is needed.
***********************************************
Participants must be a minimum of 18 years old.
This workshop can accommodate up to 4 students and needs a minimum of 3 to be held.
We urge students to register at least one month before the workshop start date.
A minimum of a one-day deposit is required with registration.
Cancellations received at least 30 days before the start date of the workshop will receive a refund, minus a $25 non-refundable registration fee.
Classes without a minimum number of students may be cancelled and a full refund will be provided.
Click here to learn more about our instructors.
Click here if traveling from afar and in need of housing.