Time: 8 am to 4 pm
Materials/studio fee: Included in tuition cost
Meals: Lunch featuring our farm grown food is included
Instructor: Garry Kalajian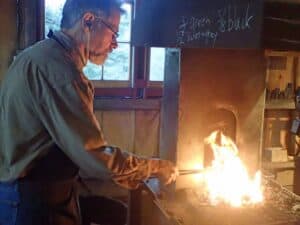 In this one-day workshop, participants will learn different methods and applications of forge welding.
Forge welding is a method of joining metals together without fasteners and has been used since ancient times. It is considered a "solid-state" diffusion welding process, which means that two pieces of metal are heated to a very high temperature and physically hammered together (instead of melting them). In order to achieve a successful weld, the surfaces to be extremely clean and so a flux is used to keep the metal from oxidizing and to extract impurities during the process.
Forge welding has been used throughout history for making a wide range of tools, fences, gates, and cookware. In the Middle Ages smiths forge welded armor and weapons. One of the most famous applications of forge welding is in the making of pattern welded steel, also called Damascus steel, which involves hammering two types of steel together then repeatedly folding, drawing out the billet, and forge welding it each time. The end product reveals the patterns created by the different steels.
Participants will be shown how to make the perfect fire and recognize the correct heat for forge welding, and be helped with welds which can be applied to hinges, coat hooks, tongs, or a fire tool handle.
*****************************************************************
Participants must be a minimum of 18 years old.
Open Forge sessions can accommodate up to 4 individuals and needs a minimum of 3 to be held.
We urge students to register at least one month before the workshop start date.
A one-day deposit is required with your registration.
If you need to cancel your registration, you must do so 30 days before the start date of the workshop in order to receive a refund.
Classes without a minimum number of students may be cancelled and a full refund will be provided.
Click here to learn more about our instructors.
Click here, if traveling from afar and in need of housing