Times: 8 am to 4 pm each day
Materials: Included in workshop fee
Meals: Lunch featuring our farm grown food is included
Instructors: Tim Huppe with guest instructors
Maximum Number of Students: 4
This workshop will begin with a demonstration of safe chain saw operation in the felling and limbing of trees, presented by professional logger and certified forester Jake Bronnenberg. Chopping for horses and oxen will be demonstrated and participants will walk with instructor John Schlang through the woodlot as he identifies and lays out skid roads and trails. John will discuss the importance of directional felling so that logs and firewood can be moved to the main trail safely and with minimal impact. Good "swamping" (clearing debris from a skid trail) and other hazards will be discussed.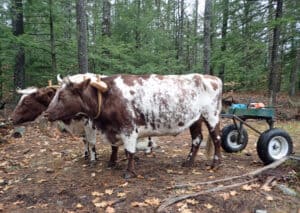 The function of the logging forecart, the New England style logging scoot, and go-devil will be explained before heading out to the woods with the animals. Proper use of a peavey for rolling logs, and the correct way to hook logs with choker chains – both to a cart and by twitching (ground skidding) – will be covered.
Participants will yoke and work with the farm's well-trained oxen and instructors will demonstrate each piece of equipment focusing on driver and animal safety and efficiency. Much of the training will be based upon the day-to-day work at Sanborn Mills Farm where during a normal work day in the woodlot, oxen singles and teams haul wood from deep in the woods along trails to the main road. Wood is then forwarded to a "hot yard" (wood concentration yard). Firewood is pulled onto a log laying crosswise which canter levers one end that can be attached to a forecart for the long haul out of the woods. Saw logs are decked onto an elevated brough, which is designed so that logs can be rolled onto a scoot for the long haul out to the mill, often with draft horses, sometimes with oxen. After the initial presentation by the instructors, the participants will be doing the "teaming" themselves, accompanied by an instructor.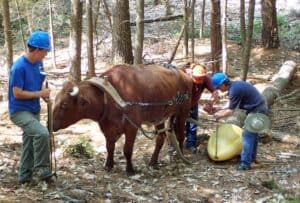 The workshop will move along at a pace that is agreeable with the participants. Instructors will take time to work safely and explain each function in detail.
All oxen workshop participants are asked to fill out a Questionnaire so that instructors can tailor the workshop to experience level and needs.
Download the Oxen Workshop Questionnaire: MS Word doc or pdf
Note: Please use the back arrow to return to this page!
Please email or mail your responses at least 3 weeks before the workshop start date to: tim@sanbornmills.org
Sanborn Mills Farm c/o Tim Huppe, 7097 Sanborn Rd, Loudon, NH 03307
********************************************************************
Participants must be a minimum of 18 years old.
We urge students to register at least one month before the workshop start date.
A minimum of a one-day deposit is required with registration.
This workshop can accommodate up to 8 students and needs a minimum of 4 to be held.
Classes without a minimum number of students may be cancelled and a full refund will be provided.
Cancellations received at least 30 days before the start date of the workshop will receive a refund, minus a $25 non-refundable registration fee.
As this workshop is held outside, registrants will be contacted 48 hours prior to the scheduled date if the workshop needs to be canceled or postponed due to weather conditions.
Oxen students are required to wear sturdy laced up work boots at all times. Hard hats are required when working in the woods.
Click here to learn more about our instructors.
Click here if traveling from afar and in need of housing.