Join us on Sunday, July 29, 2018 for our annual Open House!
This is a special opportunity to see fully restored 19th century water-powered mills in operation.
Sawmill demonstrations will be on the hour.
Gristmill demonstrations will be ongoing.
Come enjoy blacksmithing demonstrations in the historic blacksmith shop and the teaching studio.
Our teamsters will have the draft horses and oxen out to illustrate the skills of working safely and effectively on a farm using animal power.
Learn about ox yokes and why the New England style of neck yoke works so well.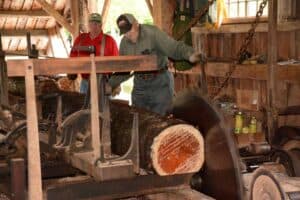 Carpentry in our belt driven wood shop will be showcased by a team of skilled craftsmen.
Admission is free and donations to support our educational programs will be gratefully accepted.