From late 1700s and well into the Industrial Revolution, Sanborn Mills Farm was a center of activity for the township of Loudon. With its water-powered sawmill, grist mill and a blacksmith shop, the farm and the people working here were a source of much needed skills and ingenuity.
As the Sanborn Mills Farm grows into is nonprofit legs, we are researching and exploring the expansion of the educational programs that can preserve the past and integrate those skills into today's sustainable lifestyles. Our goal is to offer programs that are based in the farm's unique history, mission, and location, and that enrich people's lives.
Because transformation benefits from immersion we are designing a place where people can learn, create, eat and sleep right here at the farm. Here's a concept of what the "upper campus" might like some day: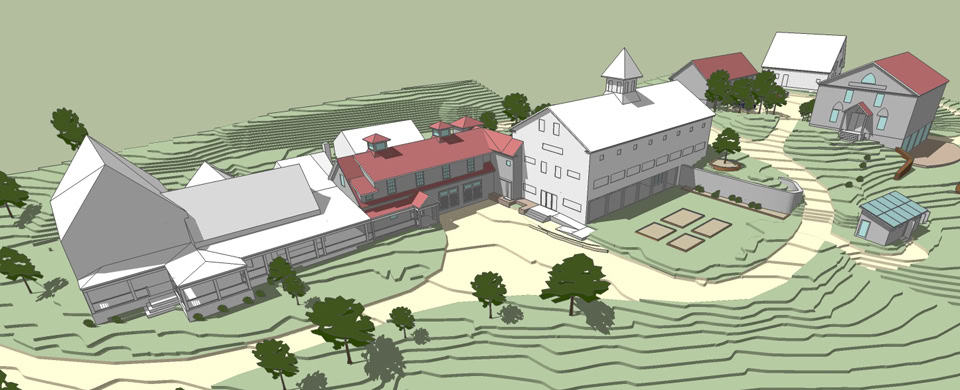 To realize our goals, we are working on two parallel tracks.
Building up our physical infrastructure . . .
Sanborn Mills Farm's unique location, surrounded by natural forest and located in central New Hampshire, makes it a perfect place to learn, create, and replenish. Having the right spaces in the right buildings is key to the experience. We started with the full restoration of the Sanborn Barn. Measuring 86′ by 48′ and dating from the 1850s, the barn was once used to house a small milking herd and sheep. The work to restore and repurpose the barn included giving it a new roof, repairing the cupola, replacing many of the structural elements of the timber frame, and putting in windows to le in lots of natural light. The Sanborn Barn will have it's next life as a place for a kitchen and dining area, a space for workshops and gatherings, and possibly a display/museum of 19th century equipment and history.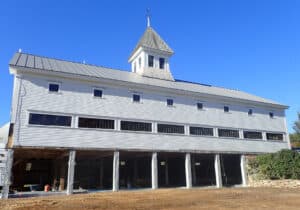 In the spring of 2016 we moved the original Carriage Barn that connected the Main House to the Sanborn Barn up the hill to sit next to the Barden barn.
Over the summer of 2016, we worked closely with TMS Architects, Fire Tower Engineered Timber, Fifield Building Restoration & Relocation and our own carpenters, to erect a brand new carriage barn using the existing foot print. The new building is configured with a large open space on the ground floor and the second floor will provide "bunk house" style housing for future interns and workshop participants. Handsome tapered gunstock posts and unique trusses support the roof and flooring system. Fashioned from hemlock trees harvested and sawn right here at the farm, the frame is both sturdy and beautiful.
In the winter of 2017, we began some improvements to the Blacksmith Teaching Studio. The shed adjacent to the studio – what we call Bernice's Garage – is being repurposed to house grinders, the drill press and other equipment, opening up the teaching studio for greater comfort and usability by our blacksmith students.
Soon we'll be undertaking putting up the historic Loudon Grange to complete the "upper campus." A historic structure saved from demolition, it will add space for all manner of activities.

Research & Planning . . .
We started our research into expanding programs, in 2014 when our program researcher Lynn Martin Graton began a series of site visits to national craft programs, learning about everything from studio set up & maintenance, to staffing, to governance, to marketing, to how the programs are sustained financially.
The next phase of our planning is to hold a series of convenings to gather information that will help our founder Colin Cabot and our board of directors chart the future direction of the farm.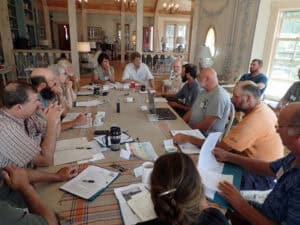 On August 25 & 26, 2017, we held a convening of draft animal educators to learn more about the issues and needs around passing on the skills for working with draft horses and oxen, and training teamsters. The meeting was facilitated by Esther Cowles of Fernwood Consulting.
Here's who was in attendance:
Here are some highlights of what we heard:
Effective draft animal education should be grounded in the meaningful work of making a living.
Draft animal use is a blend of technical skills and the art of communicating, in both doing the work and teaching about it.
Horses are reported to be used more than oxen in the US.
Globally, draft animal use remains a common form of economy that benefits from adaptive use.
Craftspeople and vendors for associated equipment and products are in decline.
Several audiences are likely candidates for draft animal education
Effective draft animal education allows for transferring theoretical knowledge to applied practice.
"A place for serious people to learn" is an identified niche.
Mentoring and coaching are needed for advanced/masters‐level teamsters seeking to deepen their practice.
Serving as an incubator to nurture the business side of draft animal practice may be a niche.
Convening participants welcome opportunities to partner with Sanborn Mills in current and expanded programs.
Next steps . . .
On April 1 & 2, 2017, we are holding a convening to discuss issues around craft education.
Check back any time to learn more about out planning efforts.