Our Instructors
BLACKSMITHING
Lucian Avery
Lucian is an accomplished blacksmith from Hardwick, Vermont. Lucian got his start in 1992, captivated by the idea of making his own tools for gardening and woodworking. He has a large repertoire that includes architectural work, furnishings, hardware, equipment and sculpture. Lucian teaches at various places in New England including Adirondack Folk School, Lake Luzerne, NY and the Maine College of Art.
For more on Lucian, visit his website: www.lucianaveryblacksmith.com
Garry Kalajian
Garry Kalajian is a master blacksmith specializing in both historical and original designs. Working out of his studio, Ararat Forge, Gary creates both production work and commissions. His work is distinguished by a faithful application of traditional tools and techniques. Garry has been a resident artist at Bow Middle School and Holderness School where he is now an adjunct instructor. He has been awarded three Traditional Arts Apprenticeship Grants from the New Hampshire State Council on the Arts as a Master artist. He frequently demonstrates at public events including the League of New Hampshire Craftsmen's annual fair at Mt. Sunapee State Park. He has led workshops across the U.S. and also in Canada and Sweden.
For more information on Garry , visit his website: www.araratforge.com
Jordan LaMothe
Jordan is a bladesmith hailing from Hebron, NY. Says Jordan, "The knife is the oldest and most useful tool that humans have, and I consider it a privilege to be able to participate in the continuation of this ancient craft . . . It is a delicate task that combines my love of wood working and blacksmithing with my appreciation for an effective tool." Jordan is a journeyman smith in the American Bladesmith Society, and makes a wide variety of knives for use outdoors or in the kitchen.
Jordan lives the life of a homesteader. He and his family have chickens, dairy cows, and a big garden, and make their own cheese, butter, ice cream and yogurt. Jordan uses his team of oxen in the woods to to haul firewood as well as hardwood for the handles of the knives and tools he makes. Jordan has taught knife-making at the Adirondack Folk School in New York and in his home studio.
For more information on Jordan , visit his website: https://jordanlamothe.com/
DRAFT ANIMALS

Ray Ramsey
Ray is the farm manager and one of the farm's ox and horse teamsters. Ray has a background in traditional farming from Indiana. He also oversees the vegetable and grain programs, with bonus skills in welding and blacksmithing. Ray is a veteran of the U.S. Marine Corp.
Tyler Allen
Tyler is the livestock manager for the farm, as well as the ox teamster. Tyler grew up in New Hampshire in the 4-H working steer program, showing at state fairs. He graduated from SUNY Cobleskill with a BA in Agricultural Business. Tyler drives both oxen and draft horses. His roles include plowing, harrowing, logging, and providing firewood for the farm.
FIBER ARTS
Pam Bartlett
Pam Bartlett hails from Loudon, NH. She believes it is important to preserve as many of the traditional arts, crafts and skills that were vital to the comfort and necessity of previous generations. Pam began rug hooking in 1982 with noted instructor Hallie Hall of Contoocook, NH. She is a juried member of the League of NH Craftsmen and a certified rug hooking teacher with the Pearl K. McGown Rug Hooking Guild. She has completed the teacher training program with the Rug Hooking Guild of Nova Scotia and teaches at her home, her shop the Woolen Pear in Loudon, NH and at rug schools and workshops in the US and Canada. She has received four Traditional Arts Apprenticeship grants from the NH State Council on Arts Traditional Arts Program to teach as a master artist.
Pam enjoys sharing her love of rug hooking and its history by demonstrating at various venues such as Canterbury Shaker Village, Strawberry Bank Museum, and the Sunapee Craftsmen's Fair. Her work has been exhibited at the League of NH Craftsmen in Concord, NH; Green Mt. Rug Hooking Guild's Annual Exhibit at the Shelburne Museum, VT; the American Folk Art Museum in New York City; the American Independence Museum, Exeter, NH; and the University of NH Law School hooked rug exhibit.
For more information, visit Pam's website: www.redhorserugs.com
Michele Hollick
Michele Hollick is an experienced and accomplished traditional floor cloth artist. She has adapted traditional techniques to current media and specializes in a wide range of traditional designs. She is a juried member of the League of New Hampshire Craftsmen and a SALI Certified Stencil artist. She has been making floor cloths for almost 30 years and her work is in the collection of many private homes and museums including Colonial Williamsburg.
For more information on Michele, visit her website: www.stenciledfloorclothsbymichele.com
Wendy Jensen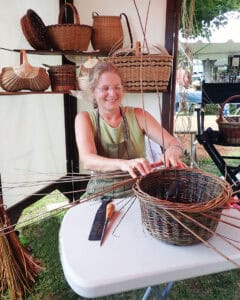 Wendy Jensen is an award winning basket maker living in the Berkshires of western Massachusetts. She has been making baskets for over 25 years professionally and her baskets are influenced by historical ash splint basket makers, particularly the Shakers and Native Americans. Her reed baskets incorporate hand-dyed accents with a variety of shapes and weaving techniques. Wendy also works with willow and has also been growing her own basket willow for the last 20 years. She has studied with several willow basket makers from England, Latvia, Denmark and the U.S. In 2006 she traveled to Ireland to study with the Irish willow basket maker and author, Joe Hogan. Wendy teaches workshops and demonstrates at museums, crafts schools and conventions and offers classes in her studio. She sells her work at several juried craft shows and galleries around the U.S and was most recently published in 500 Baskets by Susan Mowery Kieffer. She has also had a piece of her work on the White House Christmas tree.
For more on Wendy, visit her website: www.wendygjensenbaskets.com
Linda Scherz (Allen)
Linda hails from northern New York state. She has been making baskets for over 25 years and specializes in the Adirondack Pack Basket. In the early 1990's she opened a shop in her home and in 2004 she launched her website. Linda enjoys working with a variety of materials, including reed, bark, and waxed linen. When able she enjoys being out in nature and harvesting white pine or red pine bark from downed trees. She likes to incorporate woodsy elements into some of her baskets.
​Linda continues her basketry education attending workshops and conferences with other professional basket makers. She also exhibits in select shows and conferences. She was awarded "Best in Show for Fine Art/Craft: Body of Work" at the 2012 Annual Fine Furnishings Show in Providence, RI. In 2013 and in 2015 her baskets were selected for two traveling exhibits sponsored by the National Basketry Organizations – the 2013 "All Things Considered VII" exhibit held in Gatlinburg, TN and the Fuller Craft Museum in Brockton, MA and the "All Things Considered VIII" held in St. Paul, MN and Harvard, MA. ​
For more on Linda, visit her website: www.AdirondackBasketry.com
Sara Goodman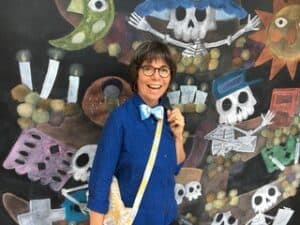 Sara Goodman is a textile artist with a studio/school in Lyme, New Hampshire. She has had a lifelong interest in the resist dyeing techniques of ikat and shibori which she has traveled to Indonesia, Japan, Guatemala, India, and Nepal to experience first hand. This connection to historic textile techniques and the work of artisans from around the world is reflected in her work with a contemporary flair.
Prin Van Gulden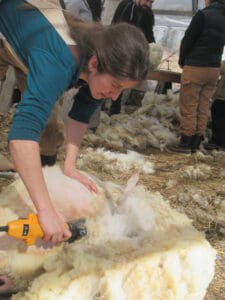 Prin has been growing dye plants and dyeing her yarn and wool for spinning for more than 15 years, and is passionate about teaching others to develop these skills and relationships with plants and their craft. She teaches Fiber Arts at Sterling College.
Penny Hewitt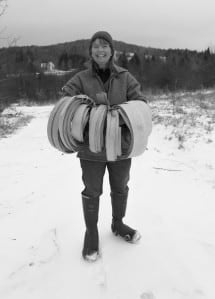 Penny is a craftsperson, teacher, homesteader, and homeschooling mom. Penny became fascinated with and then passionate about revitalizing and passing on traditional skills, particularly in the forms of black ash and birch bark basketry. Working with responsibly harvested and hand-processed materials from the forest surrounding her home, Penny seeks to create objects of beauty that are useful in everyday life. She is inspired by traditions of other cultures, and grateful for the opportunities of connection to people, place, nature, and self that her craft cultivates. You can see Penny's work here and on Instagram.
Herbalism and Wild Crafting
Sara M. Woods Kender
Sara is a clinical herbalist, wild food lover, and forager. She began her journey into herbalism at a young age. Always spending hours in the woods near her rural home of Alton, NH – she found sanctuary there – spending time with the trees and plants of the forest; hours of walking along logging roads of past and present closely observing mosses & ferns on the forest floor; maneuvering through gnarled roots, streams, and glacial till and just feeling at home, at peace. You can visit Sara's shop, Sacred Tree Herbals, in Meredith, New Hampshire.
WOODWORKING
Kevin A. Schurman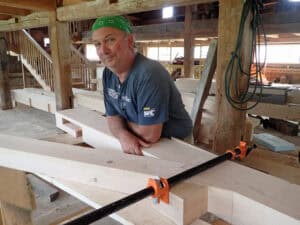 As Manager of Infrastructure, Kevin oversees the many building projects at Sanborn Mills Farm.
Kevin has been with Sanborn Mills since 2000. Before joining Sanborn Mills Farm, Kevin spent over 30 years as a self-employed restoration carpenter working on projects on old homes, barns, and other buildings throughout the state of New Hampshire. He specialized in timber framing, historic windows, doors and interior work.
Kevin is also an experienced draft horse teamster and has worked with his own horses in the woods on his property in Pittsfield. As if horses and two dogs wasn't enough, he also has a camel
Originally from Long Island, New York.
Emma Woodward
Emma is a graduate of the North Bennett Street School and majored in preservation carpentry. She is honing her considerable carpentry skills working on a variety of projects at the farm including window and doors.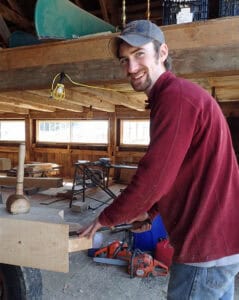 Jake Farmer
During the warm months Jake works primarily on the water-powered mills with Brian Clough. In the winter months he works with the carpentry staff. His skills range from timber framing to fine cabinetry work.