Meet our 2018 workshop instructors . . .
BLACKSMITHING:
Lucian Avery
Lucian is an accomplished blacksmithing from Hardwick, Vermont. Lucian got his start in 1992, captivated by the idea of making his own tools for gardening, woodworking. He has a large repertoire that includes architectural work, furnishings, hardware, equipment and sculpture. Lucian teaches at various places in New England including Adirondack Folk School, Lake Luzerne, NY and the Maine College of Art.
For more on Lucian, visit his website: http://www.lucianaveryblacksmith.com/
Garry Kalajian
Garry Kalajian is a master blacksmith specializing in both historical and original designs. Working out of his studio, Ararat Forge, Gary creates both production work and commissions. His work is distinguished by a faithful application of traditional tools and techniques. Garry has been a resident artist at Bow Middle School and Holderness School where he is now an adjunct instructor. He has been awarded three Traditional Arts Apprenticeship Grants from the New Hampshire State Council on the Arts as a Master artist. He frequently demonstrates at public events including the League of New Hampshire Craftsmen's annual fair at Mt. Sunapee State Park. He has led workshops across the U.S. and also in Canada and Sweden.
For more information on Garry , visit his website: www.araratforge.com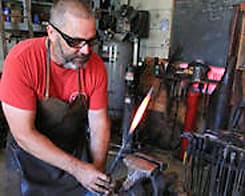 Joel Tripp
Joel is an accomplished blacksmith from Saco, Maine. His first inspiration to become a blacksmith came from the book Edge of the Anvil by Jack Andrews. After graduating from the University of Maine, College of Forestry, Joel worked for a local paper mill as a landowner assistance forester where he met Ed Grove who had a background in blacksmithing. After training with Ed in 1991, Joel built his own shop and since then has operated two businesses – a custom blacksmithing business and a forestry consulting/logging operation. With his blacksmithing he focuses on historic hand forged tools and equipment ranging from tools to equipment needed for ox chains and ox yokes parts.
For more about Joel, visit his website: http://www.tripphammer.com/
Here are some videos of Joel demonstrating:
DRAFT ANIMALS:
Tim Huppe
Tim Huppe is Farm Manager and instructor for oxen workshops at Sanborn Mills Farm. Tim attended the Thompson School of Applied Science at the University of New Hampshire and worked in the construction and lumber industries, before joining Sanborn Mills Farm. Tim and his wife Wendy are longtime supporters of New Hampshire's 4-H program and all four daughters are skilled teamsters. Tim has taught oxen workshops nationally including at Colonial Williamsburg, VI; Old Sturbridge Village, MA; Tillers International , MI; and Ferrum College, VI. Tim is also an accomplished ox yoke maker and is a past contributor to Small Farmer's Journal and Rural Heritage magazines.
John Schlang
John manages the draft horse program for Sanborn Mills Farm and provides support for oxen workshops . John is a accomplished teamster, having spent a number of years working with Les Barden, for whom our Barden Barn is named. At one time John's only source of traction power for his commercial logging and firewood operations was oxen. John served his country in the U.S. Army for over 25 years.
Jonathon "Tyler" Allen
Tyler Allen is the resident ox teamster at Sanborn Mills Farm. He comes from a farming family in Lee, New Hampshire, where he grew up working with animals including oxen. As a member of the New Hampshire 4-H Working Steer Program, he began training, exhibiting, and competing with steers and oxen at a very young age. Tyler is a graduate of SUNY Cobleskill where he received a B.A in agricultural business. In addition to working the oxen at Sanborn Mills Farm, Tyler keeps oxen at his family farm to work their woodlot and actively competes at local county and state fairs.
FIBER ARTS:
Michele Hollick
Michele Hollick is an experienced and accomplished traditional floor cloth artist. She has adapted traditional techniques to current media and specializes in a wide range of traditional designs. She is a juried member of the League of New Hampshire Craftsmen and a SALI Certified Stencil artist. She has been making floor cloths for almost 30 years and her work is in the collection of many private homes and museums including Colonial Williamsburg.
For more information on Michele, visit her website: www.stenciledfloorclothsbymichele.com
Wendy Jensen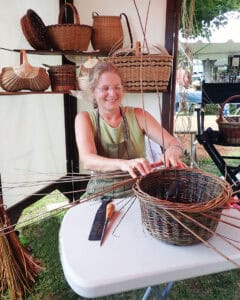 Wendy Jensen is an award winning basket maker living in the Berkshires of western Massachusetts. She has been making baskets for over 25 years professionally and her baskets are influenced by historical ash splint basket makers, particularly the Shakers and Native Americans. Her reed baskets incorporate hand-dyed accents with a variety of shapes and weaving techniques. Wendy also works with willow and has also been growing her own basket willow for the last 20 years. She has studied with several willow basket makers from England, Latvia, Denmark and the U.S. In 2006 she traveled to Ireland to study with the Irish willow basket maker and author, Joe Hogan. Wendy teaches workshops and demonstrates at museums, crafts schools and conventions and offers classes in her studio. She sells her work at several juried craft shows and galleries around the U.S and was most recently published in 500 Baskets by Susan Mowery Kieffer. She has also had a piece of her work on the White House Christmas tree.
For more on Wendy, visit her website: http://wendygjensenbaskets.com/index.html