Blacksmithing workshops were the first traditional craft courses taught at Sanborn Mills Farm. Now, over 15 years later, we continue to value the vital role this craft played in the everyday life and survival of New Englanders. We are dedicated to developing new blacksmiths through our diverse course offerings. 
Our well-equipped Blacksmith Studio is in a timber framed structure located in a quiet corner of the farm. It has four student forges and a teaching forge, all fueled with coal. Each forge is equipped with an anvil, a vice, hammers and tongs, and a quench barrel. Students are welcome to use the wide range of tools in the studio. Personal tools are welcome, as well.
Private workshops are available by request. Private workshops for teens under 16 years of age are on a case-by-case basis. Please contact Molly Bolick for more information.
Coming in 2022!
Stay up-to-date on program announcements by signing up for our newsletter, The Farmhand.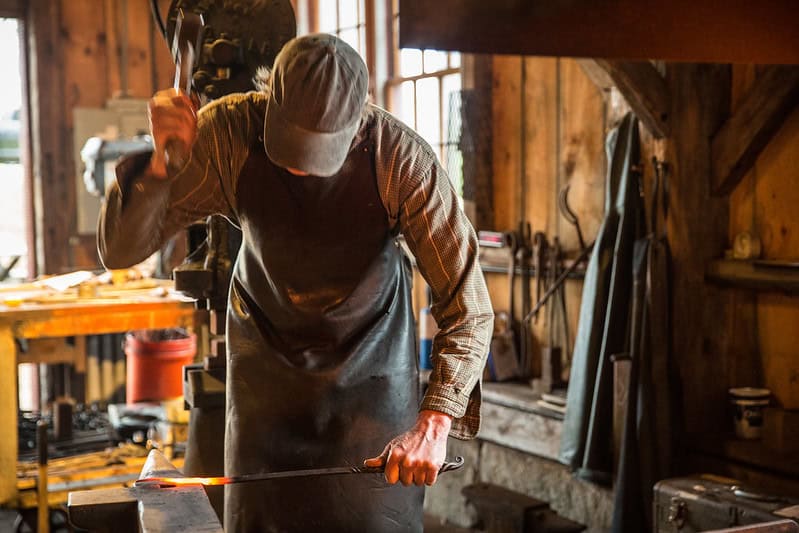 "One day we will all cherish the memory of having blacksmiths on every corner." -George Singleton, Author
Age Requirements & Safety 
The minimum age to attend a regularly scheduled Blacksmithing workshop is 16 years.
We have set this age to ensure a safe, productive, and community-building experience for all of our students. There are no exceptions. 
Students are required to use eye protection at all times and wear sturdy covered shoes. We recommend wearing ear protection, clothing made from natural fibers, and a leather apron.