Working Cattle on the Farm & in the Garden
June 1, 2019 @ 8:00 am

-

June 2, 2019 @ 4:00 pm

$300.00
Times: 8 am to 4 pm each day
Materials: Included in workshop fee
Meals: Lunch featuring our farm grown food is included
Instructors: Ray Ramsey and Tyler Allen, with staff instructors
Workshop Size: This workshop can accommodate up to 6 students and needs a minimum of 3 to be held.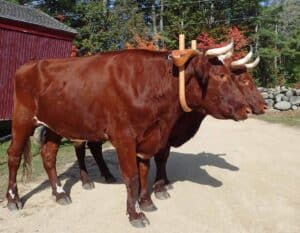 In this interactive 2-day workshop participants will gain experience in accomplishing many ordinary farm tasks using working cattle, including hauling materials and how to plow and cultivate a vegetable garden. Participants will yoke and work with the farm's well-trained oxen and instructors will demonstrate each piece of equipment focusing on driver and animal safety and efficiency.
The workshop will cover the use of a variety of equipment including a stoneboat, a scoot, a two-wheel oxen cart, and a four-wheel "truck" (four-wheel wagons built for hauling lumber, logs, barrels, etc.).
Instructors will cover adjusting yoke hardware for draft advantage, chain length and proper hooking, bridling loads for braking purposes and many other procedures that take working cattle to a higher level. The use of breechings on cattle when there is a need for holding back heavy loads on hills, will be also demonstrated.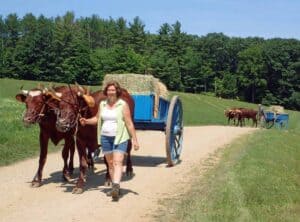 Much of the training in this workshop will be based upon the day-to-day work at the farm that is accomplished using oxen. Activities include plowing, disc harrowing, cultivating, hilling, and spike tooth harrowing in the gardens. Farm work includes hauling sawdust from the sawmill to the barns and sheds, hauling compost from the storage piles to the many gardens, moving cut and split wood from the wood yards to the woodsheds using carts and wagons, as well as hauling stones from broken ground using a stoneboat and a cart.
During the course of the workshop, participants will also work in the woods hooking up logs to a single ox, a team and a four-ox hitch using a jingle hook for pulling advantage.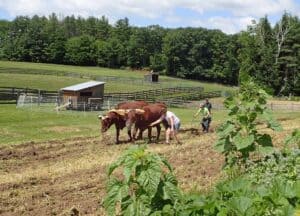 The workshop will move along at a pace that is agreeable with the participants. Instructors will take time to work safely and explain each function in detail. Questions are encouraged!
*************************************
If you are traveling from afar and would like to learn about housing at Sanborn Mills Farm, click here . If you decide you would like to stay at the farm after registering, please contact the office at 603-435-7314 weekdays between the hours of 9 am and 3 pm to check on availability.