Basketmaking: Adirondack Pack Basket
August 3, 2019 @ 9:00 am

-

August 4, 2019 @ 4:00 pm

$150.00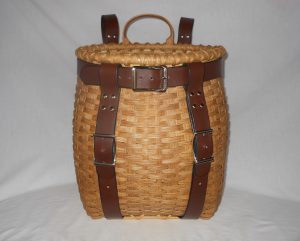 Time: 9 am to 4 pm each day
Materials/studio fee:
Pack basket kit with cotton webbing harness – $102
Pack basket kit with leather harness – $142 – payable to instructor
(Note: Harness choice needs to be made 2 weeks prior to class to allow time for making)
Meals: Lunch featuring our farm grown food is included
Instructor: Linda Scherz (Allen)
Workshop Size: This workshop can accommodate up to 12 students and needs a minimum of 6 to be held.
Create your own pack basket patterned from the traditional Adirondack ash pack baskets, one of the regions most recognized basketry forms. These versatile baskets were used to carry just about everything the guides, hunters and trappers took with them into the woods. At 16" high x 8 ½" deep x 11" wide, the Sightseer pack is a great size for teens and adults.
This basket will be made from reed and finished off with either a leather or woven web harness. The first day students weave a plain weave base with the pre-cut spokes and then weave the sides. Linda will be guiding students as they concentrate on shape, creating a belly while learning to continuous weave. The baskets will sit and dry overnight.
On the second day, students will pack baskets tight, level the top, weave a false rim, cut and tuck spokes, insert a hand carved hardwood handle, and fit the rim to the basket, and lash rim. The last step will be to add either an adjustable cotton or leather harness. Owing to time constraints, baskets will not be sealed or stained during the workshop, but instructions will be given on how to do that. Linda will bring all the materials and tools you need. Linda will be in touch with students two weeks before the class to determine harness choice.
*************************************
If you are traveling from afar and would like to learn about housing at Sanborn Mills Farm, click here . If you decide you would like to stay at the farm after registering, please contact the office at 603-435-7314 weekdays between the hours of 9 am and 3 pm to check on availability.