Carving Knife, Sheath & Wooden Spoon – Cancelled
June 21, 2019 @ 8:00 am

-

June 23, 2019 @ 4:00 pm

$375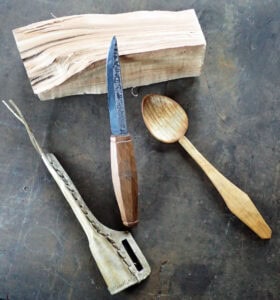 Time: 8 am to 4 pm each day
Materials/studio fee: $20 payable when registering
Meals: Lunch featuring our farm grown food is included
Instructor: Lucian Avery
Workshop Size: This workshop can accommodate up to 4 students and needs a minimum of 3 to be held.

This workshop is a special opportunity to experience three craft traditions in three days – blacksmithing, working with rawhide, and whittling utensils for the kitchen.
On the first day, students will make a sloyd style carving knife blade by drawing out the blade and tang on a coal fired forge. The bevel of the knife will be filed carefully by hand. Students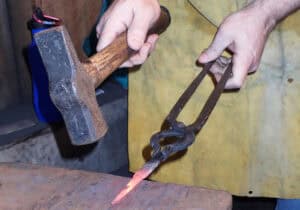 will then learn how to put a sharp cutting edge on the knife by first using the most important techniques in knife making – hardening and tempering.
On the second day, students will finish up their knife blade and then progress to making a wooden handle custom crafted to fit comfortably in the hand. Next, the blade will be honed to a razor edge. After the knife is complete, each student will cut, shape and lace a rawhide sheath.
On the third day, students will put the finishing touches on the sheath. Now the knife is ready to put to the test so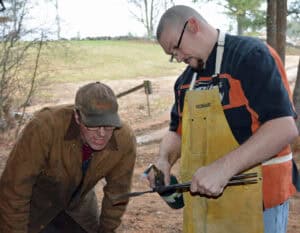 students will get a basic introduction to splitting wood with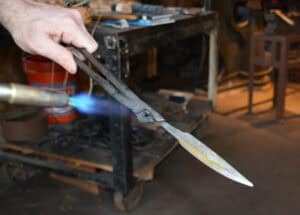 a hand axe and whittling with their knife. Each student will start of with a butter knife and if time permits whittle a kitchen spoon.
Steel selection, basic metallurgy, heat treating, and sharpening will be covered as well as local wood selection and safe carving grips. This workshop is best suited to students with some experience in the basics of managing a coal fire and drawing a taper or for beginners who are up for a challenge. No forge welding experience is needed.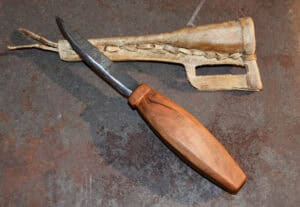 *************************************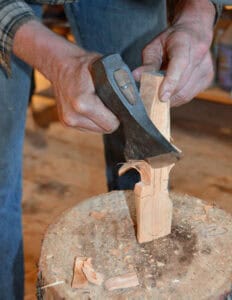 If you are traveling from afar and would like to learn about housing at Sanborn Mills Farm, click here . If you decide you would like to stay at the farm after registering, please contact the office at 603-435-7314 weekdays between the hours of 9 am and 3 pm to check on availability.