Blacksmithing: Chef Knife – Full
August 9, 2019 @ 8:00 am

-

August 11, 2019 @ 4:00 pm

$375.00
Time: 8 am to 4 pm each day
Materials/studio fee: $30 payable during registration
Meals: Lunch featuring our farm grown food is included
Instructor: Jordan LaMothe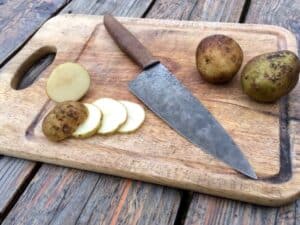 Workshop Size: This workshop can accommodate up to 4 students and needs a minimum of 3 to be held.
A good meal brings people together and gives us the nourishment we need to carry out our daily lives. In order to prepare a good meal, you need a good kitchen knife. It is essential to how fast the chopping gets done – and how enjoyable the work is. Having a hand made knife can make all the difference!
Over the course of three days, students will craft their very own chef knive while learning principles of knife design. The workshop help students develop their skills at forging, grinding, and finishing. The processes of hardening and tempering will also be covered.
Special attention will be given to the blade and handle geometry required to make an ergonomic and efficient cutting tool.
*************************************
If you are traveling from afar and would like to learn about housing at Sanborn Mills Farm, click here . If you decide you would like to stay at the farm after registering, please contact the office at 603-435-7314 weekdays between the hours of 9 am and 3 pm to check on availability.