Logging with Oxen
October 26, 2019 @ 8:00 am

-

October 27, 2019 @ 4:00 pm

$300.00
Times: 8 am to 4 pm each day
Materials: Included in workshop fee
Meals: Lunch featuring our farm grown food is included
Instructors: Ray Ramsey and Tyler Allen, with staff instructors
Workshop Size: This workshop can accommodate up to 6 students and needs a minimum of 3 to be held.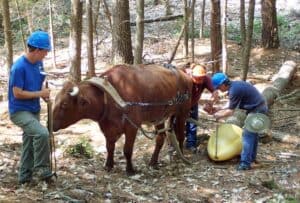 Participants will yoke and work with the farm's well-trained oxen and instructors will demonstrate each piece of equipment focusing on driver and animal safety and efficiency. Much of the training will be based upon the day-to-day work at Sanborn Mills Farm. During a normal work day in the woodlot, oxen singles and teams haul wood from deep in the woods along trails to the main road.
The function of the logging forecart, the New England style logging scoot, and go-devil will be explained before heading out to the woods with the animals. Proper use of a peavey for rolling logs, and the correct way to hook logs with choker chains – both to a cart and by twitching (ground skidding) – will be covered.
Wood is then forwarded to a "hot yard" (wood concentration yard). Firewood is pulled onto a log laying crosswise which canter levers one end that can be attached to a forecart for the long haul out of the woods. Saw logs are decked onto an elevated brough, which is designed so that logs can be rolled onto a scoot for the long haul out to the mill.
After the initial presentation by the instructors, the participants will be doing the "teaming" themselves, accompanied by an instructor.
The workshop will move along at a pace that is agreeable with the participants. Instructors will take time to work safely and explain each function in detail.
*************************************
If you are traveling from afar and would like to learn about housing at Sanborn Mills Farm, click here . If you decide you would like to stay at the farm after registering, please contact the office at 603-435-7314 weekdays between the hours of 9 am and 3 pm to check on availability.