2019: Open House & Water-Powered Mill Demonstrations
July 28, 2019 @ 10:00 am

-

3:00 pm
Join us on Sunday, July 28, 2019 for our annual Open House!
This is a special opportunity to see our fully restored 19th century water-powered mills and the many activities that take place on the farm. The water-powered saw mill and grist mill will be sawing logs and grinding corn, pending availability of water in the pond. Staff will be on hand to explain the history of the mills and how they work.
There will be blacksmithing demonstrations in the historic blacksmith shop and in the teaching studio. Our teamsters will have the draft horses and oxen out in the Teaching Garden and by the mill pond to illustrate the skills of working safely and effectively on a farm using animal traction power.
Learn about ox yokes and why the New England style of neck yoke works so well.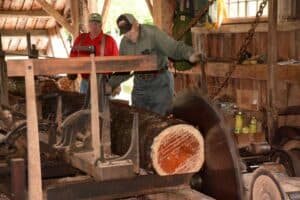 Wood working will be showcased by a team of our very skilled carpenters in our belt driven wood shop.
You will also get a chance to see our newest effort in growing and processing flax into linen.
Admission is free and donations to support our educational programs will be gratefully accepted.
Owing to the presence of machinery and draft animals, each child under age 12 must be accompanied by at least one adult to assure that child's safety.
Visit this page in early July to print the 2019 Open House Flyer before you come.
It has more information including a map of the farm.Handicapped parking will be available close to the mills for those who have some mobility challenges.