Ox Yoke Making – Cancelled
September 12, 2019 @ 8:00 am

-

September 15, 2019 @ 4:00 pm

$400.00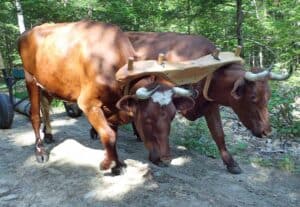 Times: 8 am to 4 pm each day
Materials: $40 payable during registration
Bows & hardware will be purchased separately and cost is dependent upon the size of the yoke
Meals: Lunch featuring our farm grown food is included
Instructors: Ray Ramsey and Tyler Allen, with staff instructors
Workshop Size: This workshop can accommodate up to 5 students and needs a minimum of 3 to be held.

The making of a neck yoke has been carried on and refined in New England. The unique shape and proper fit of the neck yoke allows the ox to exert maximum power and not be injured in the process. Because cattle continue to grow through their lifetime, an ox teamster needs to have several sizes of ox yokes if he or she wants to be self-sufficient. Ox yokes can be expensive to purchase and at times, hard to find. Therefore, it is beneficial for a teamster to know how to make them.
This workshop will take participants through the steps of making a good fitting neck yoke, beginning with identifying a good log and sawing out the "cant" and moving to laying out a specific size yoke without the use of templates and shaping it to fit an ox.
Ox yoke instructors Ray Ramsey and Tyler Allen will discuss the advantages of using various species of trees to make ox yokes and what time of year is best to harvest woods. Commonly used woods include Yellow and Black Birch, hard and soft Maple, Elm, and Cherry.
So that participants can learn to scale ox yokes to different size oxen, the instructor will share charts listing cant sizes for the desired yoke and bow diameter, finish length, and drilling patterns. Using simple tools including a pencil, tape measure, square, and straight edge, participants will learn how to lay out whatever size or style yoke is needed.
The instructor will demonstrate the use of a power chainsaw to cut out the rough shape of the yoke. In making a good working ox yoke, it is important to form a properly shaped neck seat that allows the animal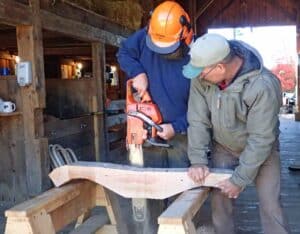 to engage in comfort. Each step in grinding away the 'unwanted' wood will be demonstrated and how to remove wood to lighten the yoke without affecting the strength will be discussed.
Examples of yoke hardware will be discussed in detail including staples, sliding advantage plates, internal and external gripes (reinforcements), and bolting for strength enhancement, etc. Final sanding and preservative treatment of the yokes will be demonstrated and if time allows, will be done during the workshop.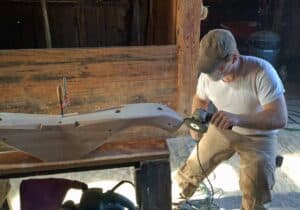 Each participant will go home with a working ox yoke. Prior to the workshop, each participant will be asked what size ox yoke they wish to make so that yoke cants (blanks) can be pre-sawn. The making of bows will be discussed in some detail but bows will not be made during the workshop. They will be ordered in advance to match the size of yoke that will be made. Bow pins can be purchased at the workshop.
Technique and safety will be explained in detail during the drilling of the bow holes and staple holes and in the safe use of a hand-held disc grinder.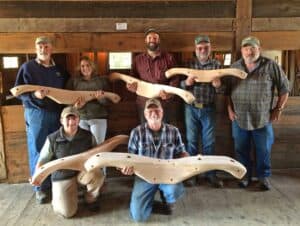 The workshop will move along at a pace that is agreeable with the participants. Instructors will take time to work safely and explain each function in detail. Questions are encouraged!
*************************************
If you are traveling from afar and would like to learn about housing at Sanborn Mills Farm, click here . If you decide you would like to stay at the farm after registering, please contact the office at 603-435-7314 weekdays between the hours of 9 am and 3 pm to check on availability.