Oxen Basics for the Teamster & Team – FULL
April 13, 2019 @ 8:00 am

-

April 14, 2019 @ 4:00 pm

$300.00
Times: 8 am to 4 pm daily
Materials/studio fee: Included in tuition cost
Meals: Lunch featuring our farm grown food is included
Instructors: Tim Huppe with guest instructors
Workshop Size: This workshop can accommodate up to 8 students and needs a minimum of 4 to be held.

This two-day workshop will cover selecting a team or a single ox for the type work intended, halter training, basic commands, and proper yoking and fitting. Training stations will be set up to allow participants to work with cattle on different pieces of equipment including a cart, logging scoot, forecart, go-devil, and we will also ground twitch. The instructors will demonstrate the navigation of a team and equipment, while explaining proper body language, position, and voice commands.
Once participants are familiar with the commands, they will drive teams along Sanborn Mills Farm and woods roads under the supervision of our experienced teamsters. Throughout the workshop, participants will engage in meaningful work typical to a working farm including hauling firewood and saw logs. There will be discussions on feeding, grooming, conditioning, trailering cattle, health, nutrition, and more.
Much of the training will be based upon the day-to-day work at Sanborn Mills Farm where a wide range of materials are moved using an ox cart. Cut and split firewood is hauled from the woodlot to the woodsheds; sawdust is hauled from the water-powered sawmill to the livestock barns; compost is hauled to the gardens; and stones are picked and hauled from the fields to the stone walls. In the course of this work, ox teams cross over two wooden bridges.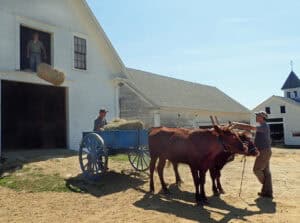 The workshop will move along at a pace that is agreeable with the participants. Instructors will take time to work safely and explain each function in detail. Lunch will be provided daily and participants are encouraged to share stories and ask questions during meals.
If you would like to bring a team to the farm, please contact Tim Huppe at 603-568-7388 at least 3 weeks prior to the workshop start date to discuss the possibility and determine if it is appropriate to bring them.
Out-of-state cattle must have a state health certificate.
NO "intact" bulls over the age of 8 months are permitted on the farm.
*************************************
If you are traveling from afar and would like to learn about housing at Sanborn Mills Farm, click here . If you decide you would like to stay at the farm after registering, please contact the office at 603-435-7314 weekdays between the hours of 9 am and 3 pm to check on availability.