Traditional Stenciled Floor Cloths – FULL
June 29, 2019 @ 9:00 am

-

June 30, 2019 @ 4:00 pm

$250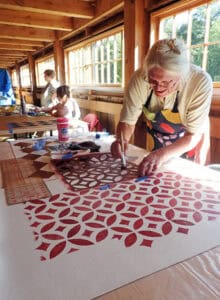 Sorry, this workshop is full. Please click here to read our policies & sign up for the waitlist!
Time: 9 am to 4 pm each day
Materials/studio fee: Included in the tuition cost (* a sealant will be available for purchase directly from instructor)
Meals: Lunch featuring our farm grown food is included
Instructor: Michele Hollick
Workshop Size: This workshop can accommodate up to 8 students and needs a minimum of 6 to be held.
The tradition of painted floor cloths has its origins in 18th century England. Making beautiful and durable floor coverings on canvas was an economical substitute for more expensive marble, tile, or wood parquet floors. During Colonial times in America they became a popular floor covering. Floor clothes added beauty and color to a room and kept drafts from coming up through floor boards during long cold winters.
In this two-day workshop participants will to create two 2 ft x 3 ft floor cloths with designs that date from the late 1700s to early 180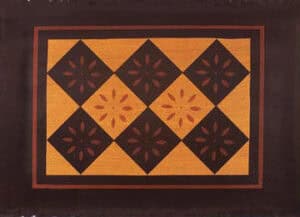 0s. While the designs and techniques will be traditional, the paints will be modern non-toxic water-based.
The first floor cloth will feature a diamond pattern using either a marbled "Diamond" design or an antiqued "Diamond" design.
The second floor cloth will be a traditional colonial stenciled designs. The historic stencils are based on those from New England and New York State.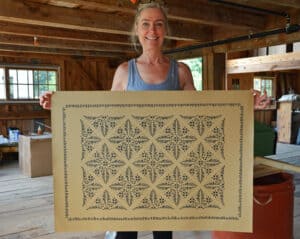 Canvas blanks will be prepared beforehand so participants can jump right into creating their designs. In order to accomplish both floor cloths during this two-day workshop, it will move at a rapid pace. Students will alternate working on the diamond and stenciled floor cloths. This will allow drying time for the various stages of each one.
If you are new to hand crafts, it is best to select simple designs for both your diamond and stenciled floor cloths. If you've had some experience with stenciling, more complex designs can be accomplished during the workshop.
Participants will need to confirm their design choices with instructor Hollick at least 3 weeks prior to class so she can prepare the appropriate materials.
The final hemming of the floor cloths and application of a sealant will need to be done at home after the floor cloths have had time to dry and cure. But don't worry, detailed instruction and demonstrations will be provided at the workshop and students will have a chance to practice the folded "hemming" technique.
The workshop fee includes the prepared canvas blank, paints, and use of stencils and brushes. Instructor Hollick will have a custom mixed water-based sealing product and a selection of historic stencils optional purchase if students want to create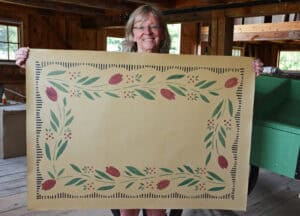 more floor cloths at home. Costs may range from $30 up.
*************************************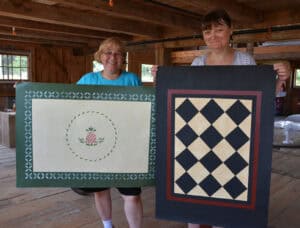 If you are traveling from afar and would like to learn about housing at Sanborn Mills Farm, click here . If you decide you would like to stay at the farm after registering, please contact the office at 603-435-7314 weekdays between the hours of 9 am and 3 pm to check on availability.
For more on the history of floor cloths:
http://stenciledfloorclothsbymichele.com/
http://www.allenscanvas.com/floorcloth%20info.htm
http://www.gracewooddesign.com/about-our-floorcloths/history/