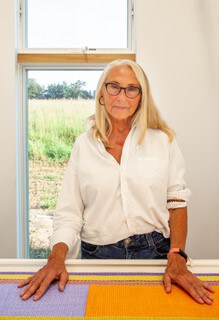 Mary Zicafoose
Michigan born, I received my BFA from St. Mary's College, a small women's liberal arts college, the sister school to the University of Notre Dame. Between the two art departments I received an inspired art education. Graduate studies include the School of the Art Institute of Chicago and the University of Nebraska.
My fascination with color, pattern, and cultural cloth began as a child with a scrap of ikat fabric given to me by my travelling aunt. After many formative years of art school and art teaching, I found myself seated behind a loom, weaving rugs. Gradually the rugs began to migrate off the floor, up the wall, becoming tapestries. It is here that I have spent my career in pursuit of visual surprise on the flat woven surface, through the evolution of painterly dye processes combined with ageless textile techniques, and an unabashed infatuation with color and scale.
As a young weaver, seeking to make my work in cloth more painterly, I was drawn to a technique called ikat. Three decades later, I remain joined-at-the-hip with this complex and relatively obscure ethnic resist-dye textile process. I am a devotee of its characteristic feathered bleeding edge, a willing partner in its demand for detail, and obediently submit to its unforgiving time-consuming appetite in order to create remarkable cloth.
I strive to be an inspirational presence in the textile world. I am co-director emeritus of the American Tapestry Alliance, and have travelled, lectured, and taught extensively throughout my career. My tapestries and works on paper are exhibited and collected internationally, included in the collections of sixteen United States Embassies on four continents. My studio practice has for the last decade focused on creating large-scaled ikat tapestry installations for public buildings. My most recent contribution to the textile field is the Penguin/Random House book, Ikat: The Essential Guide to Weaving Resist-Dyed Cloth, released in 2020.
Address
7097 Sanborn Road
Loudon, New Hampshire 03307