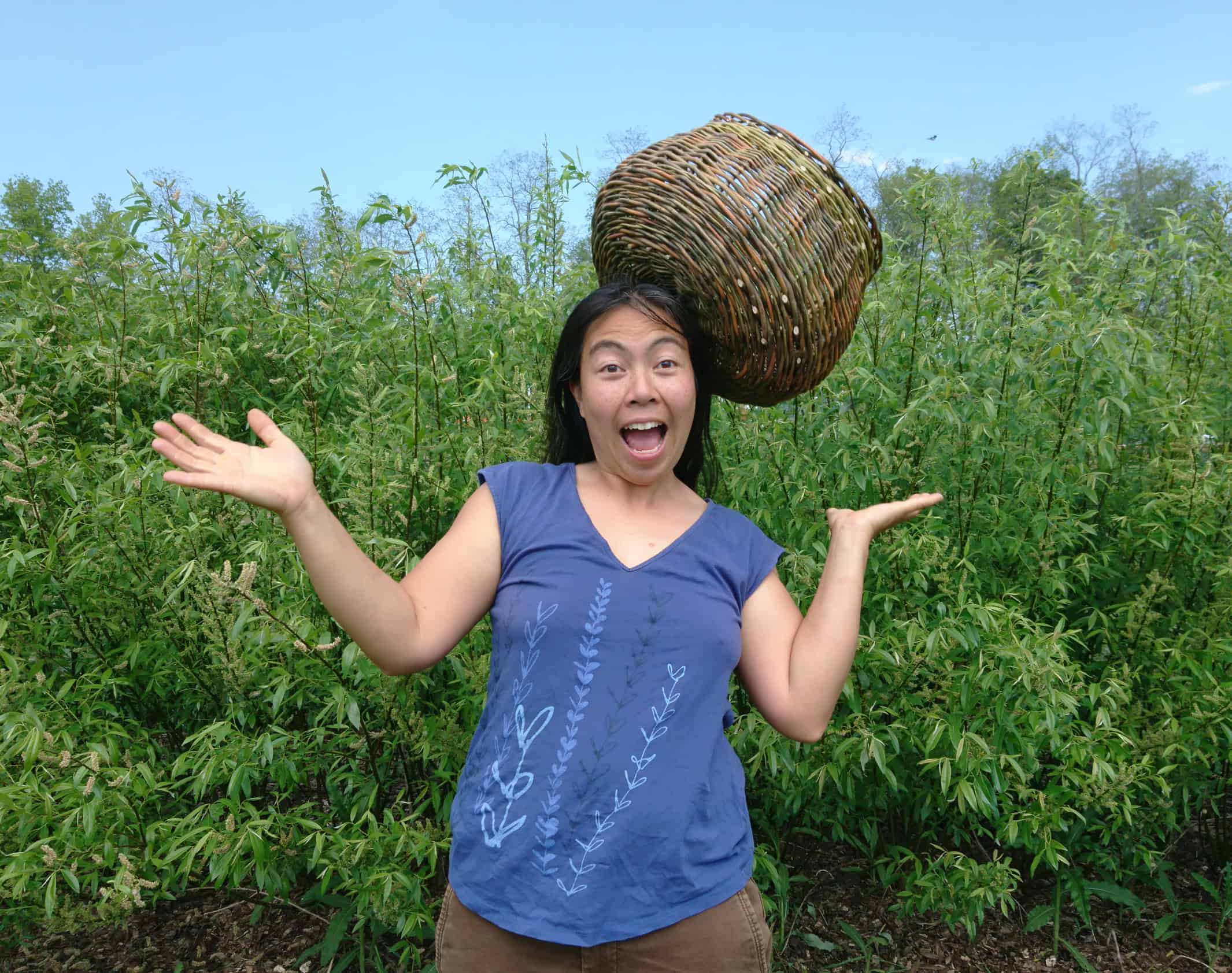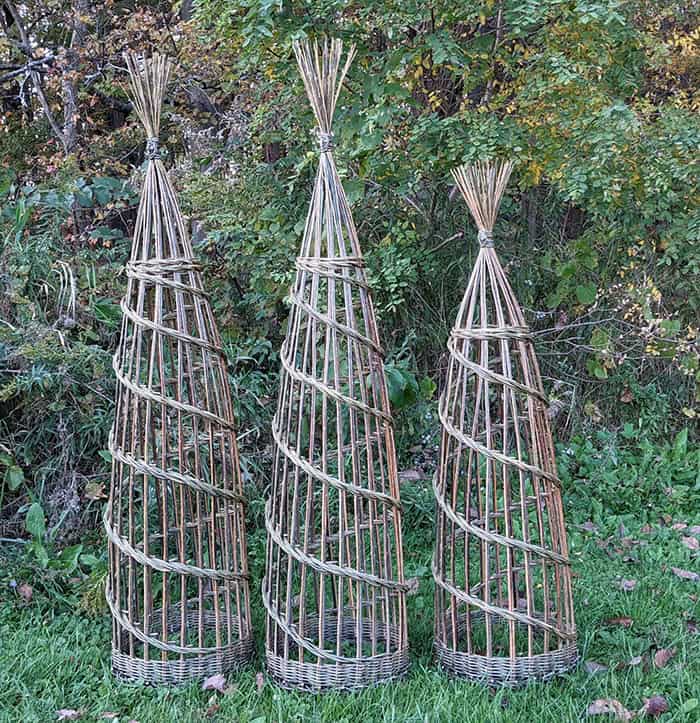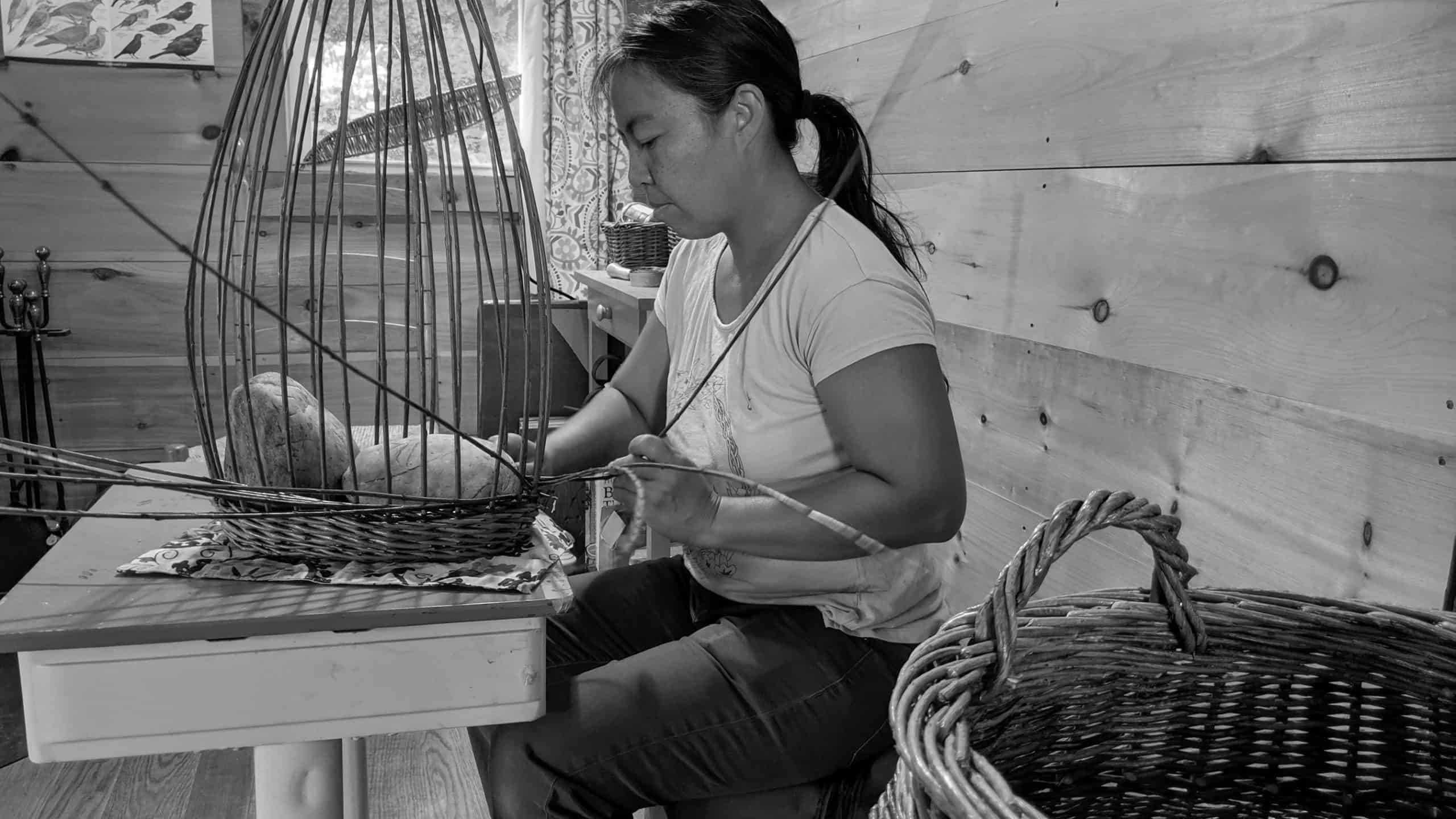 How would you describe your work and what you do?
My work is in making beautiful and functional items out of willow. I focus on using willow that I have either grown myself or I have purchased from farmers that I know and trust. The baskets and other items I weave are all products of a conversation I am having with the willow – what can I coax out of the material, and what does the material tell me about how to weave it.
When did you learn your craft and how did you learn/who taught you?
I first started to experiment with willow around 2012. I began with willow that I cut either from wild patches by the side of the road, or with permission from cultivated plants. I used some books I got from the library and what few YouTube videos there were at the time (there are many more now!) to make my first bases and crude baskets. My first lessons were with Bonnie Gale, and from there I learned a lot from Anne Mette Hjornholm, Steen Madsen, and Lene Rasmussen who ran Lakeshore Willows in Canada as well as hosted Anne Mette and Steen for their classes. I've also learned from Peter Dibble, Jenny Crisp and Katherine Lewis – all wonderful mentors who have helped me refine my skills.
What is the first thing you remember making?
The first thing I remember making ever? I remember sculpting little colorful ducks out of playdoh and bbs for eyes when I was a child. But I imagine you mean in willow – The very first thing I made was a very wonky base (the bottom of a basket) that never turned into a basket, but I still have it and use it as a trivet. My first basket under tuition was a bushel basket I made with Bonnie that I filled with farm veggies and gave to a friend of mine for her wedding.
What is the most rewarding part of your work?
I still feel a great sense of reward every time I finish a basket. If there is a basket I am especially proud of, I'll carry it around with me for a few hours, just admiring what the sticks have become. When making a custom basket, the client is sometimes commissioning a basket for sentimental reasons. At least a few have been recreations of baskets that were loved and lost. Delivering a basket that replaces a well loved basket from the past, and seeing or hearing from a thrilled customer is one of the best feelings.
Does teaching help inspire your own creativity?
Absolutely, yes. If I'm in a slump, seeing what ideas come from those that have no bounds on what a basket can be is always refreshing. I love when students have totally bonkers (in a good way) plans for their baskets and I can help them create them. It shows me what these sticks can really do.
What influences/who inspires your work?
There are so many great willow weavers out there, and this craft has been around for Millenia, it's hard to choose single sources of inspiration. Lately I find I am inspired by the precision and skill of basket makers past who were working in industry – trunk-makers and cran-makers, those working to make baskets for shipping or the agricultural process. In a time when plastic is still king, when we live in a world that is full of right angles and box-shaped things, it's healing for me to know that such a truly organic material can still fit in that world, can be relevant again, can be grown, and purposefully used, and returned to the earth.