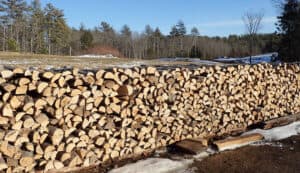 Sorry, we are sold out of firewood.
Please check back the spring of 2018 for availability and pricing.
2017 sizes & prices for dry cordwood were:
$280 per cord:
$250 per cord:
18 inches
24 inches
4 foot
Free delivery in Loudon.
To order wood or get a quote for a delivery farther afield, contact us at info@sanbornmills.org or call the main office at 603/435-7314 weekdays 9 am to 3 pm.