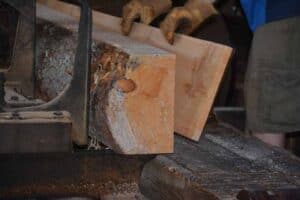 As Sanborn Mills Farm explores the expansion of our educational programs, we are researching how to grow, harvest, raise and process all kinds of materials for making traditional crafts. We are also committed to researching and preserving the traditional skills to produce crafts that are unique to Northern New England.
The goal is to support and engage in the entire process – what we are calling "stump to stick."
We will share what we are learning on this page. Keep checking back for more information.
Here is some information we've been researching on useful plants we are starting to grow:
Broom Corn . . .
Broom corn is used for making traditional "straw" brooms. In spite of its common name, it is actually a sorghum.
Flax . . .
Flax is the plant used to produce linen yarn and cloth. The seed of the flax plant has health benefits and the oil from the seed is used to make linseed oil.
Willow . . .
Certain types of willow are used to make baskets, fences, and other garden structures.
Solar Powered Wood Kiln . . .