Dye Studio Manager, Sara Goodman on Her Journey to Find Natural Dyes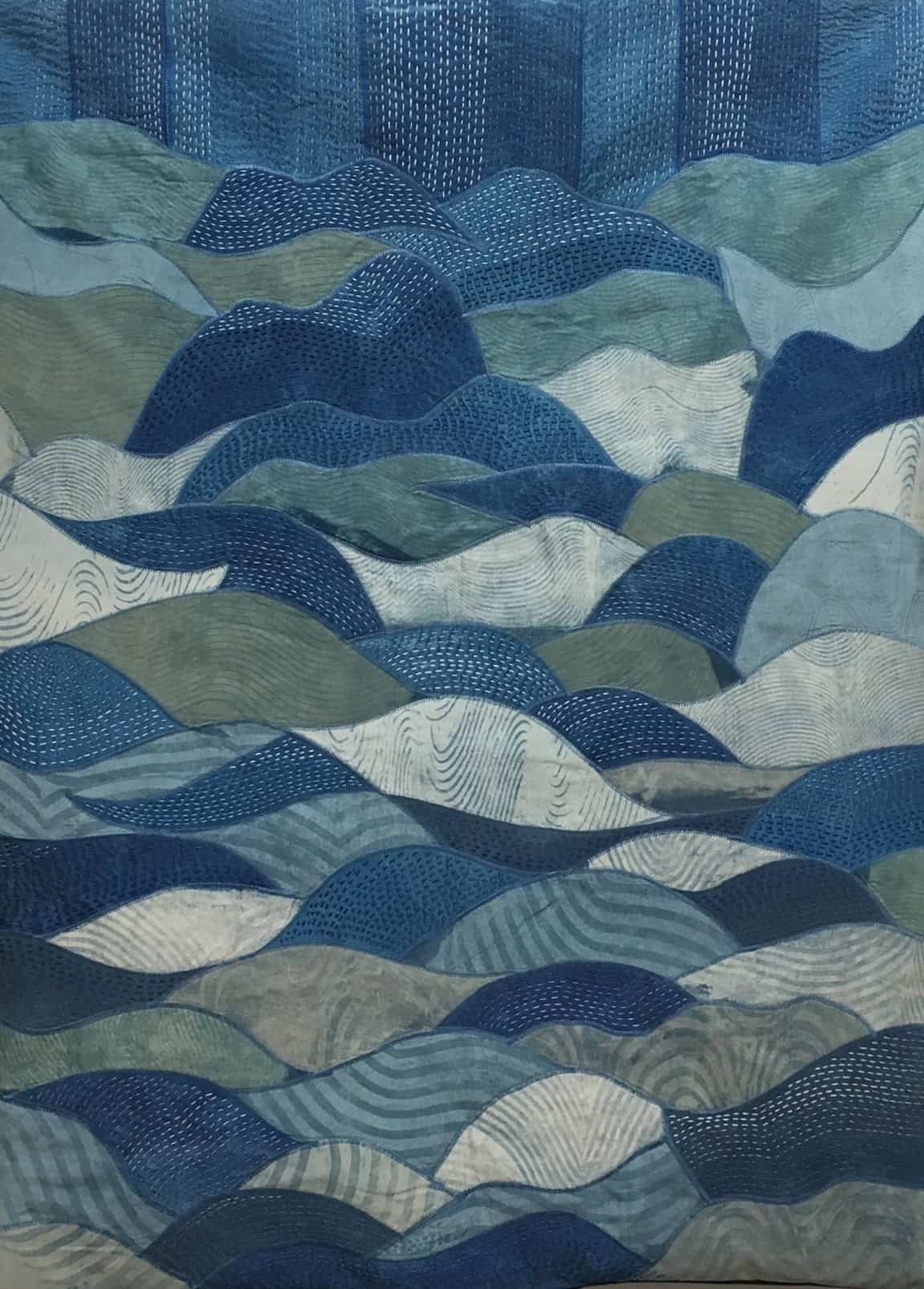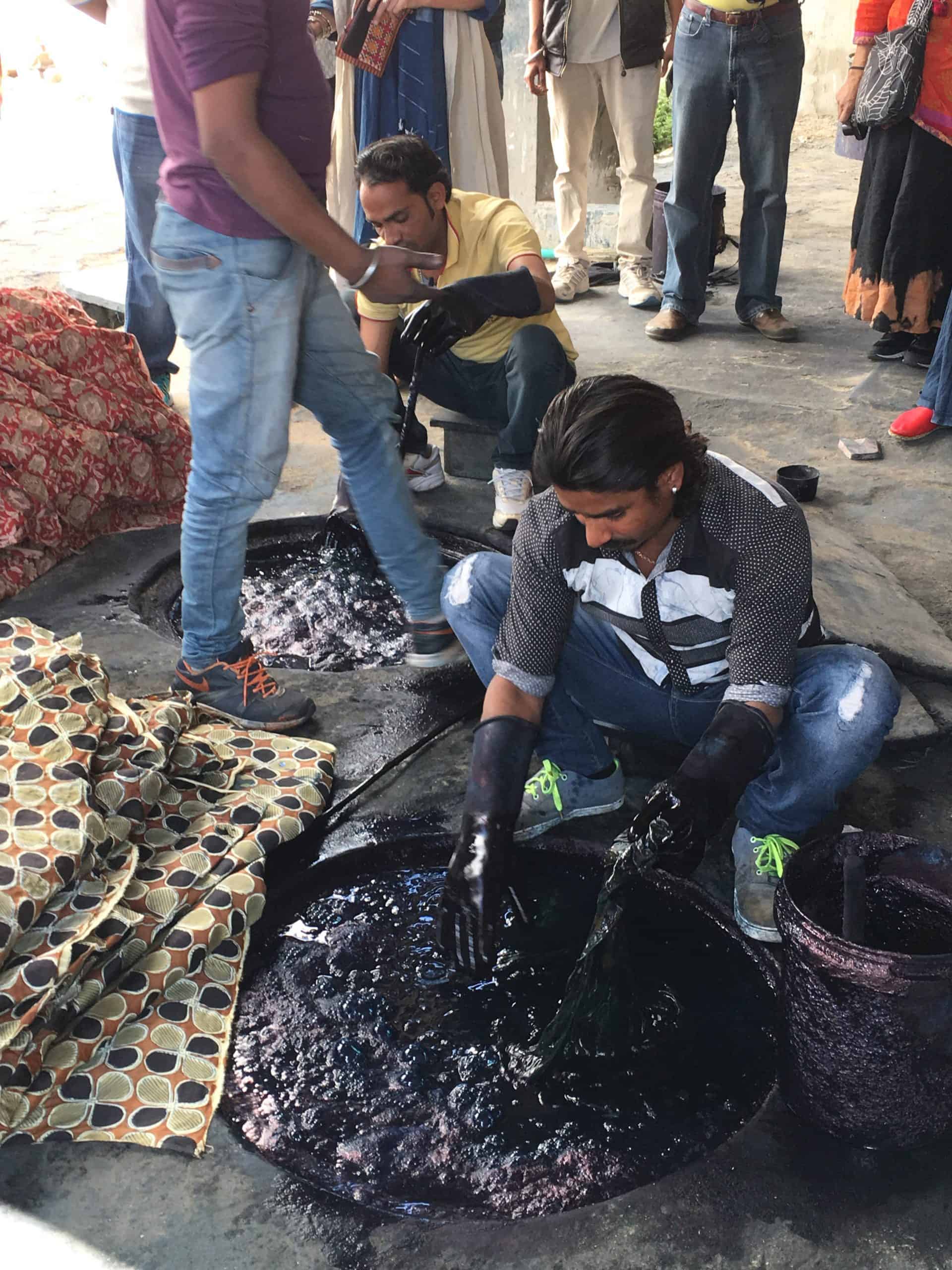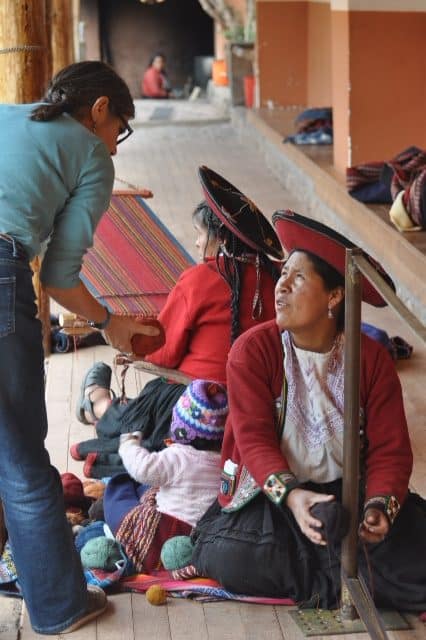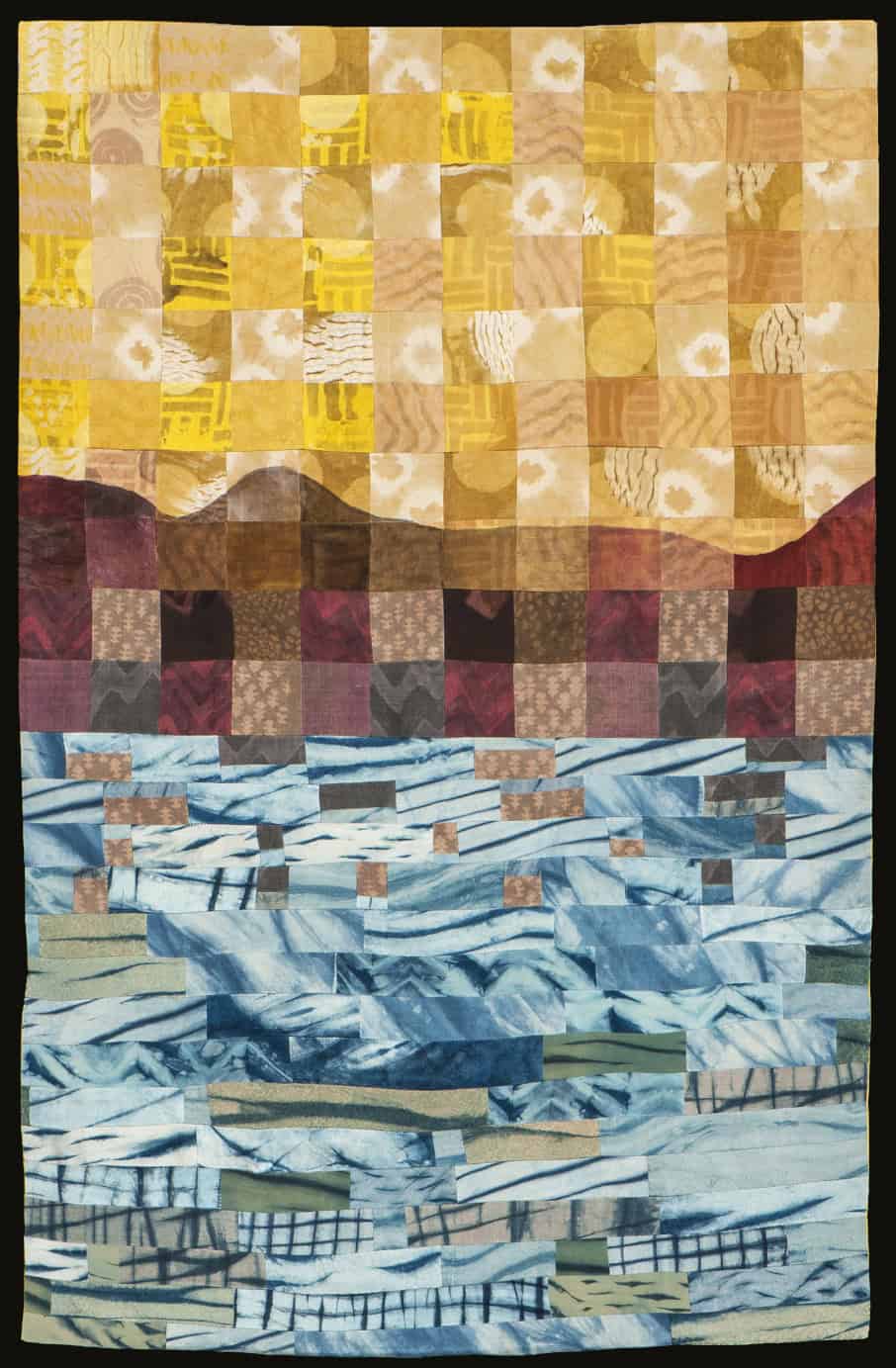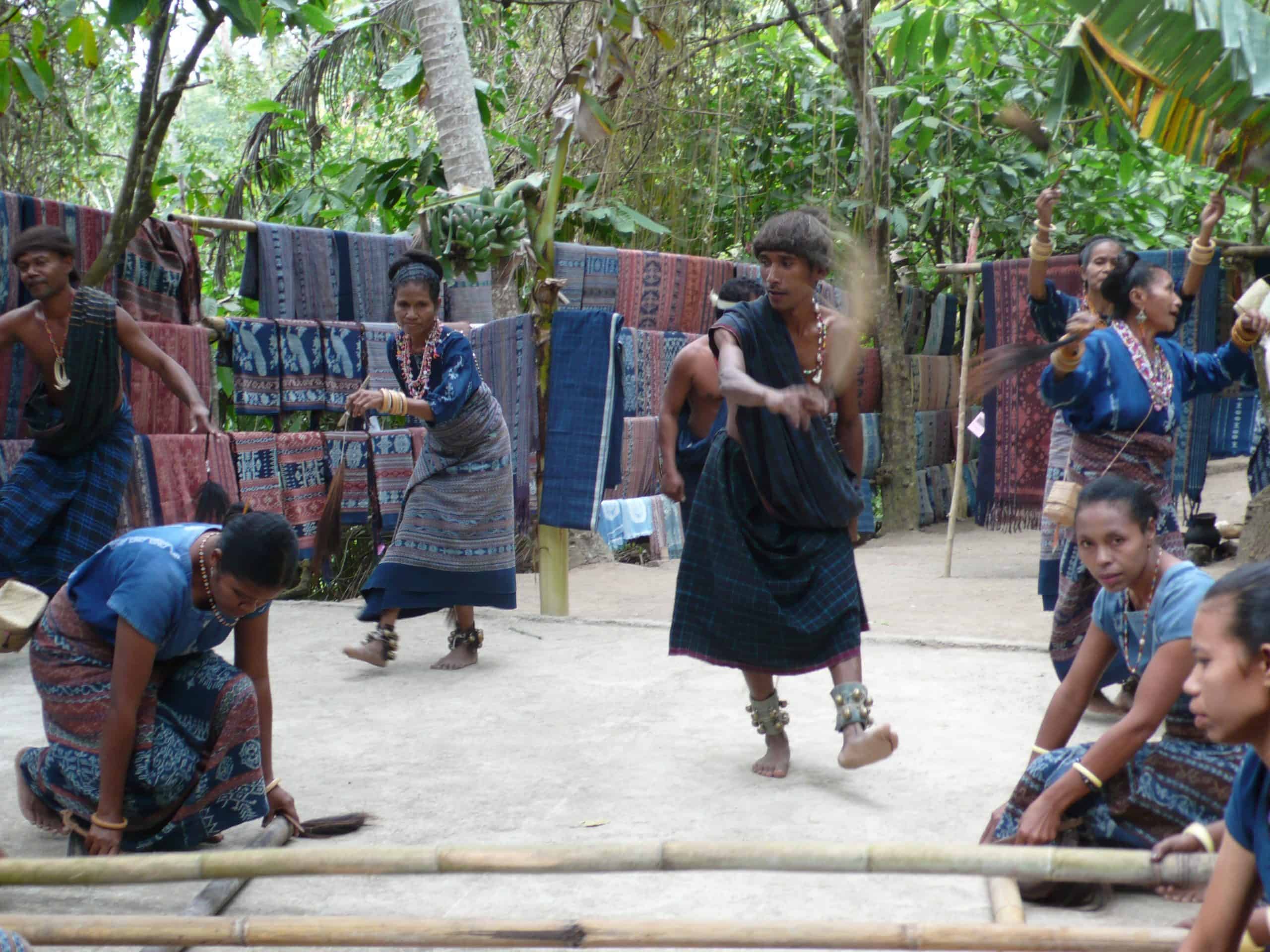 Sara Goodman, who is the Dye Studio Manager at Sanborn Mills Farm, has built her career on years of learning, extensive travel, and relationships she's made along the way. In the interview here, learn about how all of these have shaped her craft and helped her search for the colors she wants through the art of natural dyeing.
 Sara will instruct our Natural Dye Basics series of workshops that will take place throughout our 2022 season.
 How would you describe your work and what you do?
 I am a color person. So, whether I am weaving or knitting or doing some kind of surface design technique, it is the color most often that I am after.  So of course, that is why I am a dyer — I can't purchase the colors I love; I have to make them.  I began as a dyer using fiber reactive dyes. I wanted to paint the warps for my weaving — a short-cut version of the Indonesian ikat technique.  Tina Cassara, who I met at Haystack in the summer of 1980, showed me how to do that.  Then much later, around 2004, Michelle Wipplinger taught me how to make thickened paints with natural dye extracts. That's when I started using natural dyes exclusively.
 When did you learn your craft?
 My grandmother loved textiles.  She used to travel to Mexico with a friend in the 1920s and bring home beautiful embroidery tapes.  There was a deep indigo blue wool challis dress that she made for me when I was about 12. She sewed the embroidered tape on the yoke and the wrists.  I wish I still had that dress.  I do think it is from her that I gained an appreciation for handmade things from traditional cultures.  She used to buy her jewelry in antique stores and brought home silver from Mexico.  She taught me to crochet when I was about 10.  Then I learned to sew in junior high school. Around that time, I taught myself macrame from a book.  This was in the 1970s.  In college someone in my dorm taught me to knit. I remember I made a very complicated Fair Isle-style sweater with lots of colors in the yoke. I also first sat at  a loom in college.  Then in the late '70's I lived in Colorado for 6 months. Kate Smith from the Marshfield School of Weaving and I were waitresses in the same restaurant in Boulder.  I took a 10-week weaving class from Deborah Chandler and that was really my start.  Then the next summer I went to Haystack.  After that, I was determined to try to make a living as a weaver.
 How did you learn/who taught you?
 After Haystack I got my first loom and moved to Vermont and tried to make a living as a production weaver.  I've always been very good at figuring things out for myself.  Of course, we didn't have YouTube back then so I had to rely on books and my own ingenuity. I was making warp-painted raw silk yardage and sewing it into Japanese-inspired clothing and starting to do craft fairs and selling at craft coops in Vermont.  At the height of this I had accounts with shops all up and down the Northeast and had two people working for me weaving yardage and sewing. But I couldn't really make a living, so I was still waiting on tables at night to pay the bills. After three years of that I gave it all up and got a classroom teaching job.  I already had a masters in teaching.  Decades passed.  I had sold all the equipment that I'd had.  Slowly I started inching my way back into it all in the late 1990s. I got a spinning wheel.  Then I bought a loom.  I was teaching school part-time.  Then I was able to quit my teaching job and launch full time into weaving and dyeing. By then there was the Internet.  It really helped that I could look anyone and anything up that I needed.  I joined the Vermont and New Hampshire Weavers Guilds. I went to the NEWS (New England Weavers Seminar) in 2003 and I went to Convergence in Denver in 2004. That's when I first met Mary Zicafoose, who over the years has become such a good friend and textile adventure traveling companion. At this time, I started taking workshops like crazy. Meeting Michelle Wipplinger was huge. We became good friends, even traveling to India together in 2010.  In 2006 I went to Indonesia for the first time —the realization of a lifelong dream to see ikat being made the traditional way.  Getting to know Jean Howe and William Ingram at Threads of Life in Bali really inspired me to devote myself to natural dyes. In 2008 I returned to lead a trip with Jean for 12 textile people who wanted to travel with us.  And then I came back a few years later with Michel Garcia to work on the Symplocos Project. Michel was the second person I studied natural dyes with.  I've taken several classes with him, and then visited him in France to work on creating recipes to use Symplocos as a plant mordant. Also very importantly, in 2010 I went to an international natural dye conference in La Rochelle France that was incredibly inspirational.  By then I knew Catharine Ellis, Elin Noble, Jay Rich, Ana Lisa Hedstrom, Valerie Walker, and Yoshiko Wada.  It was there that we formed our Natural Dye Study Group that we kept going for at least five years.  We wrote some articles together and had two group shows at SDA and TSA conferences.  I was also doing shibori all this time and participated in the World Shibori Network with Yoshiko. I've gone to three of those world conferences in Japan, China, and Mexico and had work in the exhibitions. 
Does anyone in your family practice this craft?
No one.  My family are all intellectuals — book people. Not a one has any practical skills. Both my parents were the first in their families to go to college, so they were escaping anything they thought was old fashioned and was menial labor. It's taken them a long time to respect what I do, but they do now. 
 Does teaching help inspire your own creativity?
I teach because I feel very strongly that I am part of an ancient tradition that is flowing through me and that I have a responsibility to share what I know with as many people as I can to keep this knowledge alive.  It is one reason I love to travel to places where artisan skills are
still widely practiced and respected and on display as an integral part of the culture.  That matters to me the most.
 What most influences your work?
I get my inspiration from the materials that are available to me, from the natural world, and from the work of others who I admire. I like making complicated, many-step elaborate pieces that I might work on for months but that still look simple and elegant: preparing the fiber, dyeing, printing, sewing or weaving, and finishing.  It's never quick and that is part of it.  It is a whole different orientation to time than our contemporary rat-race life demands.  The first question people always ask me when they see my work is, "How long did it take you to make that?" and that is the whole point.
 What is your favorite thing you've made?
There's not any one thing.  I've made A LOT of work over my life time. But the things I'm proudest of are the things I spent a lot of time on — like two sweaters that I worked on for years, or weavings where I dyed all the yarn first and then sewed the yardage into coats with shibori linings.