The Gardens at Sanborn Mills Farm
When the Farm was owned by the Sanborn Family, there was a big vegetable garden roughly where the old carriage barn now stands next to the Barden Barn.  Because the vegetable garden was close to the main barn, it was easy to supply it with manure generated by the animals.  However, Ken Magoon was once paid in garden topsoil for an excavation job he did for John Sanborn.  Cash was short in those days.  So the old garden site, after being stripped of its nutrients, was no longer useful.
When Colin and Paula first moved to Loudon they planted an herb and vegetable garden outside the mud room door.  Over time it was enclosed by a picket fence and featured a knot garden – a garden of formal design in a square frame — with a stone post that had an ornamental heron mounted on top.  Thanks to Bill Veilllete (a member of both the Farm's and the New Hampshire Preservation Alliance board of directors), a load of antique cobble stones that had been salvaged from the "Big Dig" on Boston's Milk Street were used to make stone paths through the garden.  For several seasons, dyer's herbs were the focus of the garden: woad, weld, madder, Hopi amaranth (used to make red dye), and false indigo (Baptisia australis) flourished.  Plans for the future include restoring a version of this garden in the door yard of the Main House when construction is complete and parking near the barn is easier.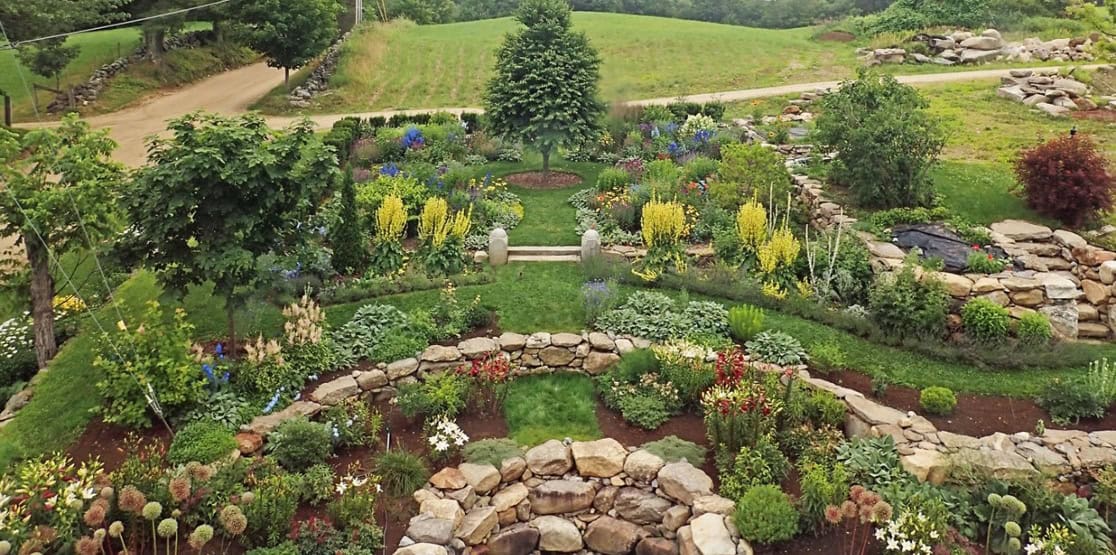 Colin's father, Francis H. Cabot, was a renowned gardener who built famous gardens throughout the latter half of his life, at Les Quatre Vents in Charlevoix, Quebec, and at Stonecrop in Cold Spring, NY.  (There exists a documentary film called The Gardener about his life and work with plants).  When he first visited Sanborn Mills Farm, Francis suggested that the top of the hill behind the Main House would be an excellent place to build a house in the Georgian style surrounded with accompanying gardens.  When he learned that the site was under a conservation easement, he then turned his attention the very steep bank into which the Main House was nestled.  He quite forcefully urged that the bank be removed.   Initially Colin and Paula resisted such a drastic move.  However, they, like him before them, are victims of what he liked to call the "edifice complex": the desire to have a project underway at all times.  Since then, the furnace building, the outdoor bread oven, and the great room and dining room in the house have been built where the hill once stood.
Click on the links below to learn more about each garden:
Address
7097 Sanborn Road
Loudon, New Hampshire 03307