The grist mill was constructed in 1830 by Theodore Farnum Elliot, after the completion of the saw mill in 1829. There is documentary evidence that there was a saw mill and dam on this site dating from the late eighteenth century. Constructed out of up-and-down sawn timbers and measuring 30 by 53 feet, the mill has four levels including the tub wheel floor, the bolter floor, the grind stone floor, and the cleaner floor. The granite field stone foundation is laid in the brook next to the spillway on the upper dam.
At one time there was a long storage shed attached to the mill, which partially obstructed the door to the grind stone floor. A gate house still covers the penstock with a gable roof on the dam.
The mill has a pair of granite stones for grinding corn and a set of French Buhr stones for grinding wheat. Originally the mill's hurst frame held three sets of stones in a row with separate drives for each set.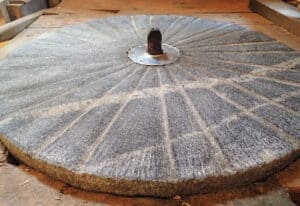 Structurally the hurst frame is in rough shape and will need to be replaced or substantially reinforced in order to make the mill usable again. In addition the original bolter, grain cleaner, corn cracker and various bins and boxes are still in place awaiting restoration.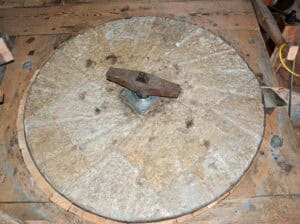 A bypass wooden flume provides water to the saw mill pond on the tub wheel floor through a 32 inch pipe run through the dam next to the pipe that feeds the tub wheels for the grind stones.