Come to the Farm on Friday, Nov. 12, to see a demonstration of our newly completed water-powered up-and-down saw at the Sanborn Mills Farm sawmill. Beginning at 10 a.m., our sawyer extraordinaire, Brian Clough, will be on hand until noon to demonstrate this pre-Industrial Revolution saw and will answer questions about the saw's restoration. While we haven't been able to confirm the fact definitely, the sawmill at the Farm is likely the only water-powered sawmill in the U.S. with both an operating up-and-down saw and a circular saw.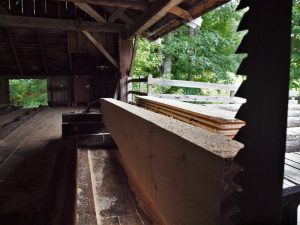 The present sawmill, constructed at the Farm in 1829, replaced an earlier sawmill at the same location that dated back to the 1770s. The "new" mill utilized scribe-rule mortise-and-tenon construction, and the frame incorporates hand-hewn as well as up-and-down sawn timbers. The original up-and-down saw was replaced in the 1870s with a more efficient water-driven circular saw.
Restoring the up-and-down saw was a 10-year labor of love, and involved rescuing old, discarded parts and forging new parts that were missing. These saws, in common use in sawmills in 18th and early 19th century New England, profoundly changed lumber milling. No longer did logs need to be hand-hewn or hand-sawn into boards, which was a time-consuming and highly labor-intensive process. While not much faster than hand-sawing, the mechanical up-and-down revolutionized labor use in sawmills and was a key element in the extensive exports of lumber made by the American Colonies to England.