Sanborn Mills Farm is committed to promoting excellence and wide range of woodworking skills, ranging from timber framing, to fine c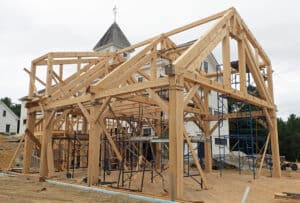 abinetry, to making traditional sash windows.
Using wood that is logged here on the property, hauled out with draft animal power, and sawn out in our water-powered mill, the carpenters on staff stay busy.
Most of the time they are engaged in projects that will support the expansion of educational opportunities at Sanborn Mills Farm.
Occasionally, they are able to break away from projects to teach a few workshops.
Click here to check out the entire listing of workshops including offerings in the area of woodworking.
Click here to learn about our instructors.
Click here if you are traveling from afar and will need of housing.
For more information on woodworking in New Hampshire visit the Guild of New Hampshire Woodworkers.