The Carriage House
The Carriage House was built in 2016 and is ADA accessible. The dormitory style accommodations consist of seven rooms with two twin beds in each room. Rooms come with an armoire for each guest as well as a privacy curtain around each bed. There are three bathrooms including one ADA compliant bath, all with showers. Linens and towels are provided. 
*As a safety precaution for students and staff, housekeeping staff will not enter student's rooms during the duration of the workshop week. A set of bed linens, a set of towels, blanket and pillow will be provided for each student in their room.
Twin Bed $60/night *Private Room $120/night
* A limited number of single private rooms may be available at an additional fee of $60 a night. Our registration staff assigns rooms based on the accessibility needs of our students. Therefore, we may not be able to fulfill your private-room request.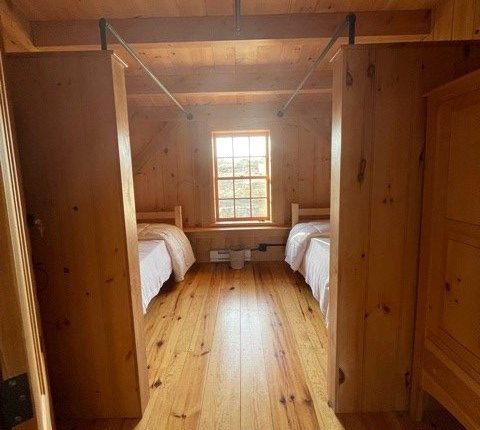 Meals
All of our meals are prepared by our talented chef Kelly Fahey using fresh produce and meat from the farm when possible and sourcing from local farms and small businesses for things such as coffee and tea. We are able to accomodate most dietary restrictions and pride ourselves on offering healthy and delicious meals to our students. 
Transportation To and From the Farm
Approximate uber fares as of 6/22
Transportation to Sanborn Mills Farm from Manchester Airport:
$67.00
Transportation to Sanborn Mills Farm from Concord, NH bus station:
$40.00
Camping 
On site camping is available free of charge for those who wish to have a more primitive stay at the farm. Aside from a soft spot to place your tent we offer potable water and portable toilets. 
There are several nearby housing options for individuals who would rather stay off-site.